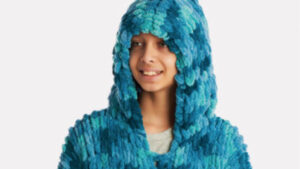 Bernat Alize EZ and Bernat EZ Wool are pre-looped yarn that allows for finger knitting. That's right, no needles required. 74 free patterns.
Interestingly, it's classified as a craft versus knitting. But that's like 'potato vs pAtatoe' to me. It looks like knitting to me.
It's still a skill-building opportunity but the entry-level to these types of projects are really low. So this means, most people can grab a hold of it and be successful with it.
With the loops preformed, you can avoid the knitting needles as the knitting needles are the tool that creates those loops. Yarnspirations has saved you that effort but this allows you to understand knitting so much more.
More Ideas

Introduction Tutorial