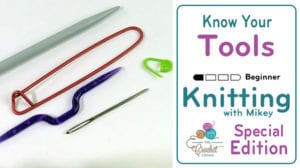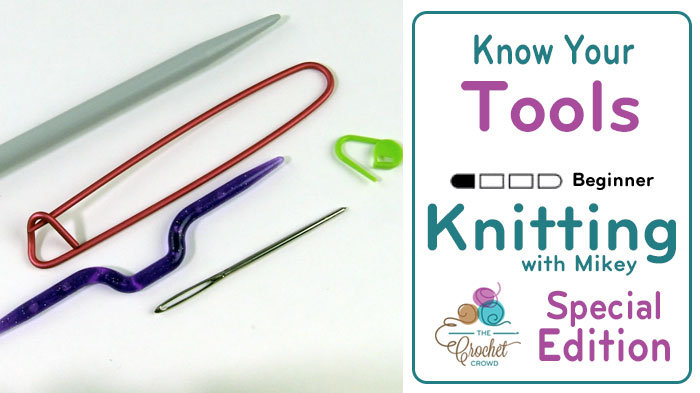 Knitting Tools and Gadgets
So you've decided to learn to knit. You've now committed to the learning process. Where do you start? I can offer you some advice based on my finding.
My biggest obstacle is looking at the knitting implements, aka tools, walls at the store. I gloss over with a deer in headlights look. What do I need? Where do I start?
As a full disclaimer before we begin. I have no sponsorship of any tools or implements for either crochet or knitting. The tools I will be using are what I have access to.
Pattern Suggestions
Starting with Knit Tools / Implements
Don't go hog crazy when in the learning process to buy everything on the shelf. The shelf has many different sizes of knitting needles and in different styles. I found myself unsure which needles I would want to work with. How do I know what I need? The answer lies directly on the yarn you want to play within the learning steps. You need to select your training yarn before deciding your knitting needles.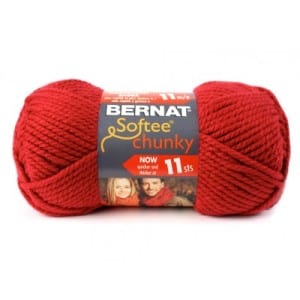 Find the Right Yarn
Go back to the yarn and look for yarn to play with. Here are some pointers:
I would select chunky based yarn. This will allow you to be more forgiving in the learning process of learning how to hold your yarn and getting used to the motion of knitting needles.
Look for yarn that the plies have a nice twist to it. This will help you to prevent not inserting your needles through going through plies instead of loops.
Look based on price. You want an affordable yarn that you don't mind using as a sample project yarn. For myself, I may unravel the sample and try again several times during practice.
Consider Bernat Softee Chunky or equivalent yarns. That is what the ball band is showing above. It's affordable and in many retail stores.
Stay away from novelty yarn that has extra things hanging out of the yarn like eyelash yarns, fibre chunks or boucle yarn. Items like Roving yarn are a definite no-no for the learning process as they are not wound like typical yarn and the plies can split. As you become more comfortable, you can start buying this type of yarn in the future. For now, put that on a wishlist for a later time.
Looking for the Correct Knitting Needles
Now that you selected your yarn, in most large manufacturers of yarn, the ball band will contain standard information that is critical to your choices of knitting needles. Let's review the Bernat Softee Chunky Ball Band.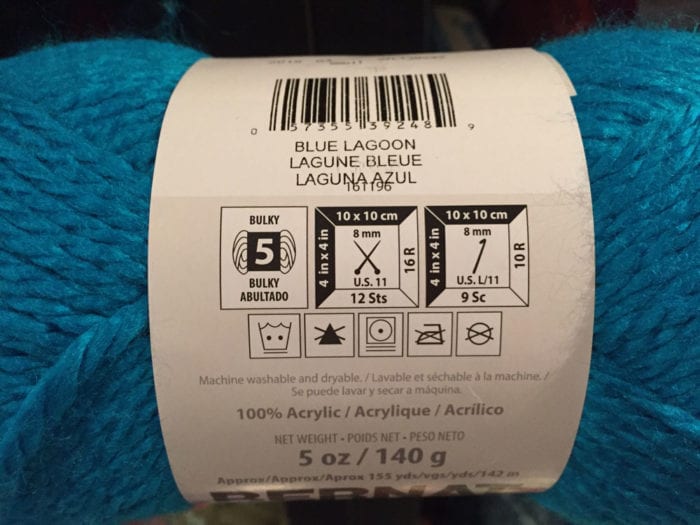 Above is a sample of a ball band. On this ball band are the answers you need to make the necessary choices for knitting needles. The yarn companies follow a set of guidelines to gauge the yarn to match the size of a knitting needle. The example above, Bernat has determined that this yarn is an 8 mm or Size US 11 Knitting Needle. This is the recommendation hook for this thickness of the yarn.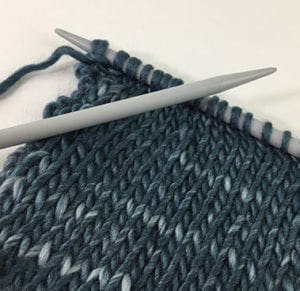 The thickness of the needle is considered the recommendation of the yarn to fit your crochet hook and needle sizes. If your tension is consistent, each stitch will end up in the same size stitch and be uniform.
It's important that if you put down the project, usually you will leave a knitting needle in place to hold the work in between the times you are not working on the project. If by any chance that you grab one needle that isn't the same size as the other, you will end up with stitching that won't look uniform.
Most knitting needles have sizes etched onto the knitting needle. There are tools where you can stick your needle into a hole to measure the size, for your beginning purchase, you don't need that if the needles are already marked.
Going Down Sizes in Knitting Needles
In going down, you will compress the yarn into tighter stitches. It can cause the project to be stiffer and very dense. In certain projects, this is a plus. In other examples like a hat or something you may wear, if you don't follow the pattern knitting needle recommendation and go down in sizes, it will impact the finished sizes as it will make the project smaller.
Going Up Sizes in Knitting Needles
If you go higher in knitting needles, you will end up in loose stitches. For lacy or more relaxed looking work, this may be desirable. This is project dependent. This will also make the project much larger if following a pattern that recommended a smaller knitting needle size than you used.
Types of Knitting Needles
This is where it can get complicated. You will find different sizes and materials for knitting needles. For me, this has been a complicated part of which types of needles to buy.
Not only will you see these types, but you will also see them in different lengths and made up of different materials. Each has there own benefits.
Things to consider right off the hop is the material of the knitting needle:
Bamboo / Wood is generally really light. In smaller needle sizes they can be break if you are applying too much pressure. In larger thicknesses and, of course, smaller thicknesses you may have to contend with warping. If you don't store your needles properly or there is pressure applied in the middle of the needle, the knitting needle can get a permanent warp that is very difficult, if not impossible to correct. Using a warped needle can be extremely difficult to use and isn't worth the headache.
Resin is what many of the mass manufacturers use. Depending on the brand, you have to watch the no-name brands for this type of product. No-name or less well-known names may have a quality deficiency on the needle of nicks or burrs on the needle that interfere with the sliding of the yarn. These also have a tendency to warp if you don't store them correctly. They are stronger than bamboo or wood. They are generally heavier than bamboo and wood.
Aluminum is usually heavier than bamboo or resin. Generally, we think, heavier better quality but with knitting needles and even crochet hooks, this is not the case. While knitting hundreds of stitches in a sitting, the weight of the needles can cause extra pressure to your hands, wrists and elbows.
Each has its pros and cons. I have some of each. For me, I have been using resin.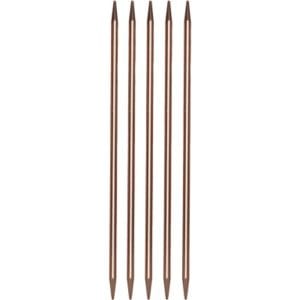 Look to the Point
The point is important. Some needles have a sharper point than others. You may see a difference within different brands on the types of points is at the end. When examining the knitting needles, rub your fingertips over the edge of the point. Let's review the difference.
Blunt Points
Blunt points work well when the yarn is suitable for them. If the yarn doesn't split, you can slide your needles into the stitch without much interference.
Chances are, you will touch the end of the needle's point often with your fingers won't be irritated by the point.
Sharp Points
Sharp points work better if the yarn tends to split or when blunt tips just don't slide into the stitches as easily. The downfall to sharp points has everything to do with touching the end of points. If you tend to rub your fingers over the points the sharpness can be abrasive and bother you.
Types of Knitting Needle Formats
You will notice different types of knitting needles. Each has its pros and cons based on your project. Typically when I think of knitting needles, I think the straight version with a stopper on the one side.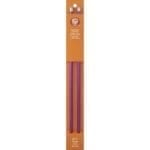 Straight Needles with Stopper
The length of the knitting needles judges how many stitches will fit onto the needle. You are limited by the needle on how wide your project will be. So it's pretty safe to assume, smaller projects are suitable for this type.
The longer the needles, the changes of the knitting needles interfering with your body, lap or surrounding knitting can increase. The ends can bounce off objects as you manipulate the stitches. For me, this is a strong interference factor.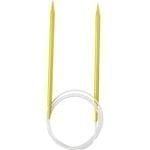 Circular Needles
Upon doing research and crocheters contacting me about learning to knit, I realized circular knitting needles. They are not what I expected them to be. I thought because they are referred to as circular that you knit in a complete circle. I figured items like hats were done with these needles. I made the assumption based on the loom knitting of working with circular looms.
What I just came to realize is that the cord is just a holder for extra stitches. I realized to make afghans, I have never seen knitting needles that may be up to 8 feet wide. Though it seems obvious to me now, the extra stitches rest on the cord without you having to use impractical length needles. This allows you to keep your project contained on your lap without having to take up a lot of space.
You still have to transfer from one needle to another during knitting. You don't knit in a continuous circle as I had assumed.
But there is also another advantage. The needles are smaller in length. Even if you are working on smaller projects, even though the needles are attached by a cord, they are easier to manage generally.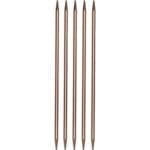 Double Pointed Knitting Needles
Double pointed knitting needles are used for going in continuous circles. Items like hats, mitts and anything you want in a continuous circle without a seam line. These are not used in pairs but can be used multiples.
To obtain a circle with these, you need to use 3 knitting needles to hold the project. It will look like a triangle. You use the 4th knitting needle to knit with and transfer the project to the needle you are using. Eventually, this will empty the needle you are transferring the stitches from.
You will use the newly empty needle as the next needle to use to knit the project.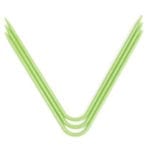 Curved Knitting Needles
Curved knitting needles appear to be a knitting tool but until this research, I didn't realize they were knitting needles. The advantage, according to my research is that it is unnatural for circular items to be made with straight double-pointed knitting needles. Though that's been done for decades, the curve nature reduces the stress to the project.
They take a bit of getting used to it. Instead of using 4 double-pointed knitting needles, you use only three of these. The project stays on only 2 knitting needles and the 3rd is used to knit and transfer the project to that needle. It will empty the needle you are transferring from and leave you with an empty needle. You will slide the project to the middle of the bend and let rest.
For new knitters, you may want to use these at the beginning instead of going to the 4 double pointed needles method.
Extra Tools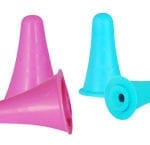 Knitting Stoppers
Knitting stoppers have two purposes. You place the stopper at the end of the point when you are not knitting.
When storing your project inside a bag. For added protection that you don't accidentally stab yourself when reaching into your bag or storage area.
The other purpose which is pretty useful is when you are done knitting for a time frame. You place the stopper at the end of knitting needles to prevent the project from easily slipping off.
You may not need these right away. You can put this purchase as something for later on if you enjoy knitting.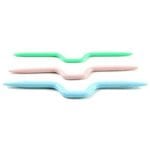 Cable Needles
Cable needles have a strange appearance. I wasn't sure what these were. These are essential if you want to do cable work.
Cabling requires you to overlay stitches to cross each other. How do they work exactly? Let me explain.
When doing cabling, a certain amount of stitches are removed from the knitting needle to these as a holder. You advance on the next few stitches that are assigned in the pattern. You then put the stitches back onto the knitting needles. You then knit with these. You will cause the stitches to overlap to create the beginnings or endings of cables on a project.
Unless you plan on doing cable work, you can put this as an optional purchase for later.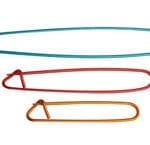 Stitch Holders
These are stitch holders. I didn't get what these were for until a knitter explained these to me.
Usually in crochet when doing a project where a project divides such as a neckline or straps, in crochet we just fasten off and start it again. With knitting, we don't have that luxury.
For example, in the boy's vest done with crochet. We would have to divide the surface of the project to go up one side to the top of the shoulder. We complete the work. Then return and do the other side to the top of the shoulder.
With knitting, we have to do the same thing, but we just cannot pull out the knitting needles with exposed stitches to go up one side.
So what we have to do slide the stitches that will be holding onto the stitch holder and close it up. We knit as usual to the top on the one side. When done, we return to the holder and slide the stitches back onto the knitting needle and complete the other side.
This is not a purchase you need to do right away.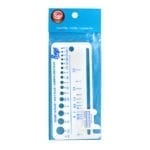 Gauge and Needle Size Measure Tool
This is an optional tool to help you measure gauge and knitting needle sizes. It has a few purposes which you may find handy.
If your knitting needles don't have sizes recorded on them. You can stick your needles in the hole to figure out the size that they are.
Like crochet, your tension is controlled by your wrapping technique. So this means you still could be a loose or tight knitter. Gauge is determined by the project if it's professionally written but also labelled on the yarn ball as I mentioned at the very beginning.
Looking below, the gauge is listed in the box for both crochet and knit. You will see the measurement of 4" x 4". Using an 8 mm or US 11 knitting needle, you should get 12 stitches across x 16 rows high. If you are getting fewer stitches across in a 4" span, it means you are a loose knitter. If you are getting more, it means you are a tighter knitter.
The measuring tool has a slider for you to slide the measure tool to figure out how many stitches you do across. Technically speaking, you can do the same thing with a tape measure without having to buy this tool.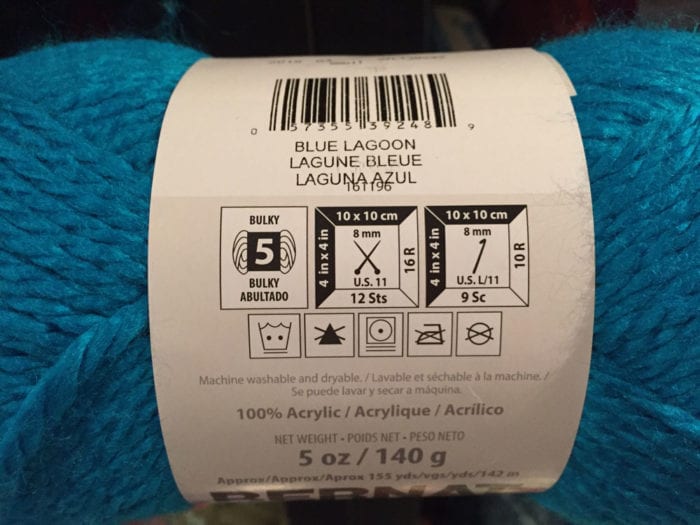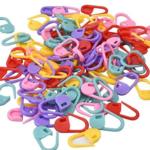 Stitch Markers
Stitch markers are necessary for knitting when you need to follow certain patterns that require you to keep count. You will see a handful here in the picture but you don't need very many.
The key to stitch markers is not to use anything really heavy. Easy to attach and undo without putting stress on the yarn strand. If they weigh too much, it will cause the stitch to droop and sag. It may be noticeable as an imperfection at the end of the stitch has been stretched.
There are many brands and novelty stitch markers. For me, I tend to lose stitch markers so I don't invest a lot of money into them. You may be better organized than I am.
Tapestry Needle
Tapestry Needles are the final icing on your project. You will use this needle to hide in any loose ends or tails at the end of the project.
For me, I would recommend metal tapestry needles over plastic. I have found with the plastic that if there is any tension in the yarn that the plastic ones tend to break or bend permanently if you are experiencing friction.
Look for tapestry needles that have somewhat of a sharp point. The ones like Clover's example here has a slight bend on the tips. Those work well and I prefer my tapestry needles to have this bend when using.
Other Tools
Finally, I have talked about tools today and there are more. From stitch counters and more. I've given you enough information to get you started.
Shopping List
Get some yarn that matches your desires with the suggestions I have made above.
Get either a regular knitting needle set or circular. For me, I would do circular. Use the ball band recommendation for needle sizes to make the determination.
Tapestry needle to finish off your samples.
I find there are kits available and they are helpful but if you are unsure if your journey in the future will include knitting. I would consider just getting a set of needles and yarn and go from there. If you think you are going to go further, then you can invest more money into tools/implements down the road.
That's it... start from there. The other tools I shared you can purchase in time down the road.
Final Disclaimer
The Crochet Crowd has never been sponsored by a crochet hook or knitting needle manufacturer. The tools used in the tutorial are my purchases on what I had access to at my local yarn shops. I may share the names of the brands in the tutorials but there is no affiliation or requirement for me to do so.
Tutorial
Knit Scarf Pattern Ideas