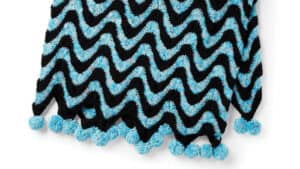 The Crochet Water Park Waves Blanket has very deep and sweeping wave action. It's unlike any crochet wave blanket I have seen.
The pattern has a small error at the time of filming but will be corrected in the future. The starting chain is 260, not 264. This is scheduled to be changed.
If you would like to change the size of this, it's in multiples of 32 chs +4.
More Ideas

Tutorial
https://youtu.be/sQk_rc6qrEk
More Wave Projects