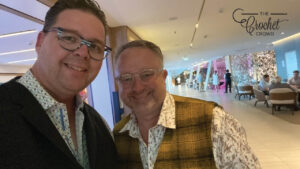 Daniel and I were watching a documentary focused on Abercrombie & Finch last night. It's in our era this situation happened and yet neither of us remember this, but there's a reasonable explanation.
Neither Daniel nor I in our younger years hung out at the mall. Myself, I was a social outcast, so the idea of going to the mall to hang out with myself is laughable on its face. Daniel has no interest in wearing clothing from places like this or even places like the GAP. The clothing for both of us in our 20s was unaffordable for retail stores like this. You can buy a shirt at these places when you can buy far more clothing at another. The money has to be stretched.
---
Story Time
In my 20s as I came out of the closet, I started shopping at a more fashionable places and having more fancier clothes than I was used to. Of course, I bee-lined to the discount rack. Who doesn't right!? I really disliked going into places where I am greeted by a representative and then trailed in the store. Leave me alone, I will buy more if you just leave me be. But I feel watched and conscious of my time. More often than not, I cut my visits short.
At this one location, I was starting to become a regular customer. I bought a bit here and there, I was on a tight budget and absolutely go for the discount rack. The era of the associates wearing headsets to communicate has happened. As I passed by one associate, I heard her say into her headset, "There's that cheap faggot!" and just as she says that I hear the rest of the associates burst out laughing in the store. Including the manager. So you know it's a lost cause.
I was mortified and when I looked at the clothing I was wearing in the store, everything on me was purchased there. I am their loyal customer. I had just come out of the closet within weeks of this and I thought, OMG, this is my life moving forward of side glances and under-the-breath comments. I got to the rack and the associates are watching me. I couldn't do it, I just turned around and left. What am I doing there as they will gladly take my money? 
The internet has just become available and I thought, I wonder who the head office of this place is. I found them, I emailed them my situation and sure as hell, within minutes, I get a phone call from the Canadian-Wide Manager asking me to share. Followed by a call the next day with the provincial manager, followed by the district manager and then eventually the store manager that laughed along with the crew. She was really apologetic and said they didn't mean to disrespect me. Whatever, save it! 
She offered me 40% off my complete purchase the next time I am in. Identify me and I will get 40% off. I told all of the managers that called me, I don't want a discount, I just want you to be aware that speaking into the headsets in the earshot of customers is upsetting if they are talking about a customer.
I never did go back to that store. I hold grudges and I felt, there is nothing that would have changed within the staffing that fast for me to be talked to like a human being instead of looked at like a value. Of course, them slanging my homosexuality at the time of coming out was devastating to me. It was the first time of been called that by someone I hadn't known and in my lifetime, will not be my last. It was at this moment, that I knew I was an outcast in high school which followed me to my adult years. This situation put me back as I was embarking on a new lifestyle trying to claw my way through figuring things out.
When looking at the models in the photography in stores of laughing, hanging with friends. I'm completely the opposite person of that. So the idea of shopping in mall stores to be in trend when you don't fit the trend wasn't something that I would follow.
---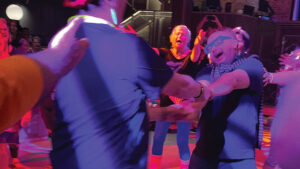 Daniel and I were talking about the documentary afterwards last night. We were reflecting on shopping back in Ontario on our days off and driving to the city. We made the day of it, shop the mall, do the food court for lunch. As we were gaining weight, our options became less.
One of our favourite stores we loved to shop at, never carried anything over 36 pants and though at Walmart my shirt was Large, I couldn't fit into a 2 XL in these locations. We basically gained weight only to be booted from these stores with no options.
The last time we went to the mall, we went from one store to another, only to realize we had no options other than a major department store. Suddenly the fun clothes for us became out of reach. How do you dress when the choices aren't there? 
---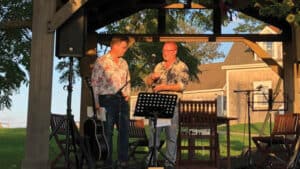 The pandemic pushed Daniel and me to shop online. We were barely online shoppers. Everything I needed was within arms reach of where I lived until it wasn't any longer. Decided by the retailers. Us bigger people want to wear nice clothes too you know. Is that so wrong? 
Once I finally placed my first order on Amazon during the pandemic, I thought, man this is easy. I can buy sizes that fit me and narrow down the searches so easily. Why are we going to stores only to feel humiliated when there are no sizes for us. Well, that's gotta change!
What I realized during this documentary last night is that I kinda feel bad for buying online. In looking down at my clothing right now, only my sweater I am wearing as a light jacket is the local thing I bought. Everything else is from online shopping. In sizes that fit me.
We've learned some lessons with the ads on Facebook to be a bit skeptical as the same item is sold by several companies but our gut instinct suggests it's the same company just with a different website face, does anyone else think that? The website is here today, gone within weeks. Scares me to think online shopping that money can be taken but then you cannot find the site and pray to gawd that your stuff arrives.
In watching the documentary, I realized that it's not an accident for people like us to not have options. It's designed that way. Do you know what I have to say then!? Screw it, the whole online shopping thing for us was our way of trying to fit in without having to pick leftovers on a rack or doing only to realize you don't fit into anything and the sales rep says, "I'm sorry, we don't have clothing that would fit you!" In walking out of the store and sitting on a bench and seeing the passers-by, no one by the store's own criteria can actually fit into their clothing.
I came away with the documentary of this guilt of shopping online has to be over. It's the new way of shopping like it or not. Daniel found this location online, and I don't remember the name of it. It's out of India and you give them your measurements that include your body shape, which may be a pear shape like us. The clothing is customized from the fabric and made for you. It's called French Crown. Not at crazy cheap online pricing, but at costs that a normal beautiful shirt would cost if I was local. Best yet, it's made for you, not for you to fit a mould of what an average person would want. The quality is worth the investment. (PS, I don't use affiliated links, so the link I provided is direct to the website for your convenience.)
The pandemic taught us that we have options when things get limited. The guilt of online shopping is kinda out there but in some cases, the only option is when you live in a small community, like us, and the options are limiting. Kind of an eye-opener experience.
I get there are local jobs that rely on us to shop, trust me, that's why I have guilt. However, not everyone wants to be dressed the exact same thing if the options are limited in where you live. I think like a retail store, with body shapes morphing into the larger sizes with humanity expanding like we are, it must be difficult to decide what to stock and how many items to buy to stock the shelves. It's probably why they offer free shipping at the store if the size isn't available to send it to you, which happens with a couple of retailers here.
Am I surprised by the outcome of the documentary? Not really, it was a place where I wasn't meant to be as a consumer due to pricing and image. It's hard to shop at a store where the men are ripped and partially naked in photography and I resemble the Pillsbury Mascot! 
What are your thoughts about this? Leave me a comment on the blog.