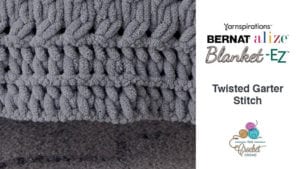 Twisted Garter Stitch with Bernat Alize Blanket EZ Yarn
While there is great emphasis on not twisting up the loops, if you are strategic about it though, you can create fabulous looks like this Twisted Garter Stitch.
The garter stitch puts the link between the rows and that really helps this really show an incredible impact.
When you loop through the working strand, you twist the loop you are about to go into 180 degrees clock-wise. Once you get used to doing the twist, it will become natural to do it and you can end up with great looks like this.
Where to Find Bernat Alize Blanket EZ
Bernat Alize Blanket EZ is  available at all participating JOANN Fabrics & Crafts stores across the USA. This yarn will be available on JOANN.com. Keep in mind, that JOANN only ships to the United States. Click here to Find A Store Near You. See JOANN's website for more information on store hours and terms of service for online ordering and shipping.

Tutorial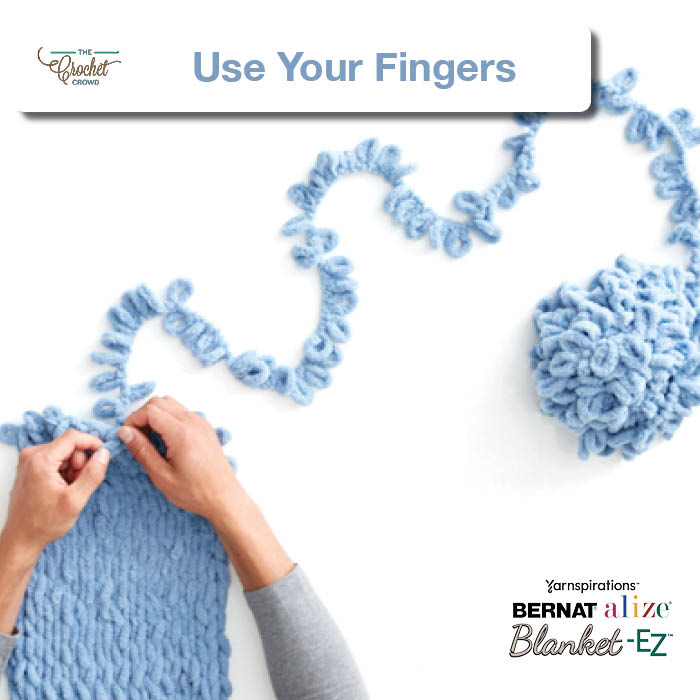 More Bernat Alize Blanket EZ Ideas
Bernat Alize Blanket EZ" data-style="grid" data-row="1" data-layout="vertical" data-rtl="" data-fitrows="" data-filtercomb="" data-filterlogic="OR" data-filterload ="" data-sortbyload ="" data-orderload ="false" data-fullwidth="" data-fullheight="null" data-gutters="[[320,5],[480,5],[768,10],[980,10],[1200,10],[9999,10]]" data-slider='{"itemNav":"null","swingSpeed":0.1,"cycleBy":"null","cycle":5000,"startAt":1}' data-ratio="1.78" data-cols="[[320,1],[480,2],[768,3],[980,4],[1200,4],[9999,5]]" data-rows="[[320,200],[480,200],[768,220],[980,220],[1200,240],[9999,240]]" data-animation='{"name":"Fade in","visible":"","hidden":""}' data-transition="700ms" data-ajaxmethod="load_more" data-ajaxdelay="100" data-preloader="1" data-itemdelay="100" data-gallery="" data-ajax="">