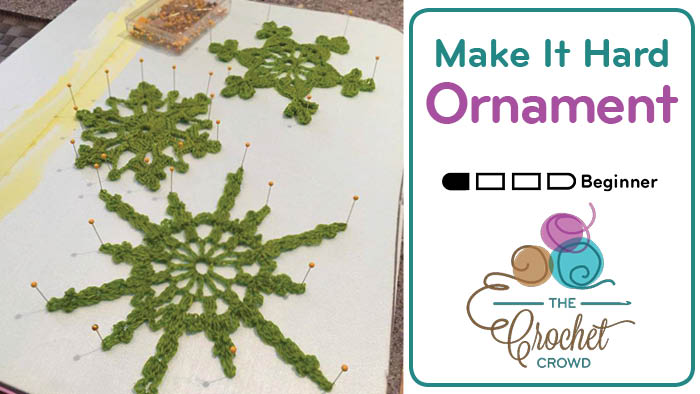 Make Your Ornaments Hard or Stiff Recipe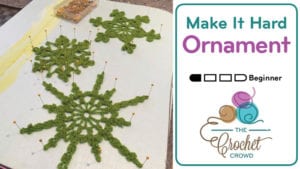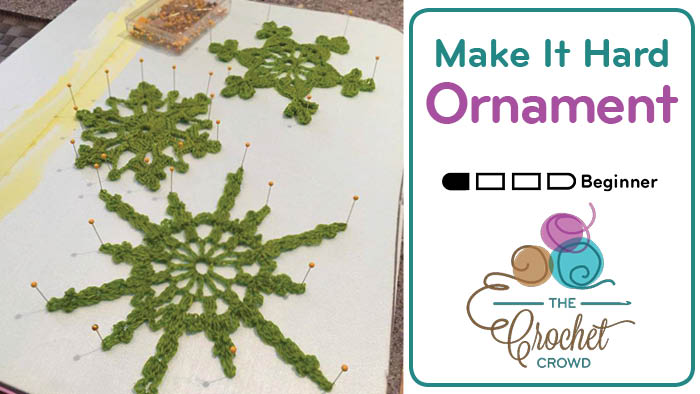 Make Your Ornaments Hard
Have you ever seen those stiffen yarn projects that are formed to a shape and then hardened to be permanently into position? I have some advice for you. There are several ways to do this, some better than the others.
General Overview
The process is generally messy, so plan ahead on being organized to ease up the process. Have all of your materials out and ready.
It can take several days for the project to completely dry. You have to be patient and let it dry completely. So plan ahead and think about your gift giving timeline or when you plan on putting the ornaments on display.
Remember, these make the project stiff but are not bullet proof. So you have to be gentle
Recommended Supplies Needed
Spare piece of flat Styrofoam. For pins to sink into.
Waxed Paper. To prevent project from sticking to surface.
Pins. To force the shape to hold if required.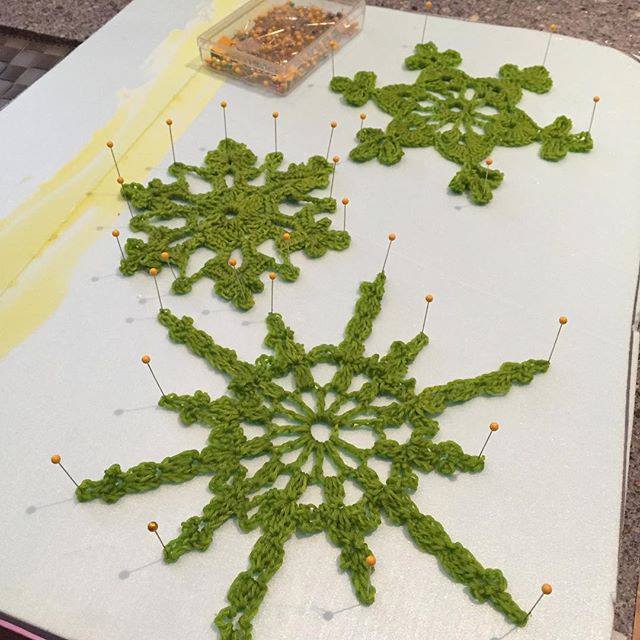 I've tried a few things to stiffen up projects. I will give my recommendations in order of my favourite to least favourite.
Recommendation 1 – Best Solution For Me
Equal Parts of Water & Starch.
Boil together.
Let cool down so you can touch the water without burning yourself.
Soak your project, squeezing your project so the solution goes into each fiber. DO NOT TWIST or RING OUT Project.
Compress the project in your hands to remove the excess water.
Place onto wax paper. Position the project to form the shape you need. Use pins and force shape if required. If your project is built up like bowls or hollow interior surfaces, place wax paper over object that is used to prop up the project to form the shape.
Sprinkle with Sparkles if required.
Leave in a naturally warm area of your home. Let completely dry. It could take a few days. The solution will solidify.
Remove pins and use project as desired.
It will not discolour the project.
Recommendation 2 – Straight Glue
Craft Glue like Elmers.
Lay down project onto waxed surface. Pin if required to hold the shape.
Using craft paint brush, brush on the glue to the project. Try not to apply any glue to the surface of the wax paper. Be generous but not glopping heaps that will drip.
Sprinkle with Glitter if required.
Let dry in a natural environment.
Pins will be difficult to remove. So be careful to pull the pins out without breaking the project.
The project will be extremely stiff. You may need to peel away glue that has dripped.
Glue tends to dry yellow. So white snowflakes could end up being yellow in the end.
Recommendation 3 – Glue & Water
Equal parts of Water and Craft Glue.
Treat as if it's the Starch and Water Instructions Above.
Recommendation 4 – Store Bought
I've bought stiffner from Walmart. While it does stiffen, the amount needed as per the bottle is subjective.
The liquid needs to be sprayed onto the project. It hard to control how much liquid really gets into the fibers. While the outside of the fibers may appear wet, it doesn't mean the interior has had the solution soak in.
I found myself repeating this process several times after the project has dried and parts of the project are not as firm as other parts.
Some people have had luck with this process, me, not so much.
Recommendation 5 – Hairspray
I  have used Hairspray to stiffen up items.
Spray hairspray onto your project and let dry. Hairspray, in my opinion, is hard to control as the mist can extend beyond the project. So be careful when spraying your surfaces with hairspray… I would do this outside.