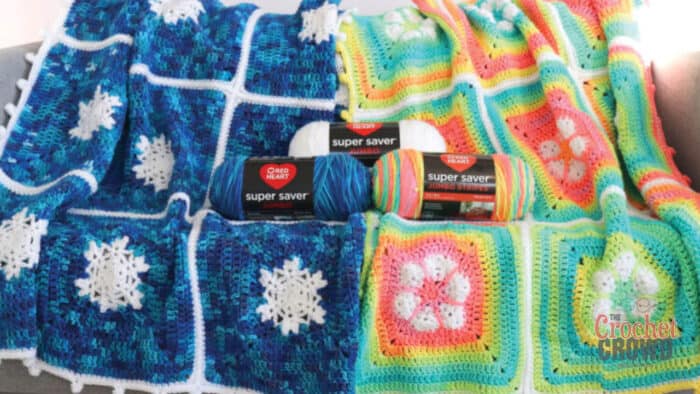 Embracing the Festive and Fresh
Sarah's creative genius shines through as she introduces two captivating designs for this year's Stitch Along. The first design exudes a festive or winter feel, capturing the warmth and charm of the holiday season. The second design takes us into a world of fresh spring hues, promising a burst of color and vitality.
.
.
Both versions of the Stitch in Season Stitch Along showcase a variation of Red Heart Super Saver, a yarn known for its quality and versatility. Sarah, renowned for her vibrant color choices, lets the yarn's palette work its magic in both designs. The result is a symphony of hues that effortlessly captures the essence of the changing seasons.
Year-Round Appeal
What sets the Stitch in Season Stitch Along apart is its timeless appeal. Whether you choose the cozy winter design or the lively spring version, both blankets are destined to become cherished pieces in your collection. Picture yourself snuggled under the winter-themed blanket during chilly evenings and then transitioning seamlessly to the spring-inspired one as the weather warms. These creations are not just blankets; they're invitations to savor the beauty of each passing season.
Community Crafting: The beauty of the Stitch Along extends beyond the finished blankets. It's a communal journey where crafters from around the world come together to share their progress, ideas, and the joy of creating something beautiful. Join the vibrant community and let the Stitch in Season Stitch Along become a shared celebration of creativity and camaraderie.
Another Stitch Along
The Crochet Crowd will host Inspired by Colour Stitch Along starting December 26, 2023. The Inspired by Colour will be in rectangle and square versions. Rnds 1 to 3 are already available to get started on this. We are using Red Heart Super Saver for this as well. There is no sign-up for this stitch along as it will roll out on YouTube each week.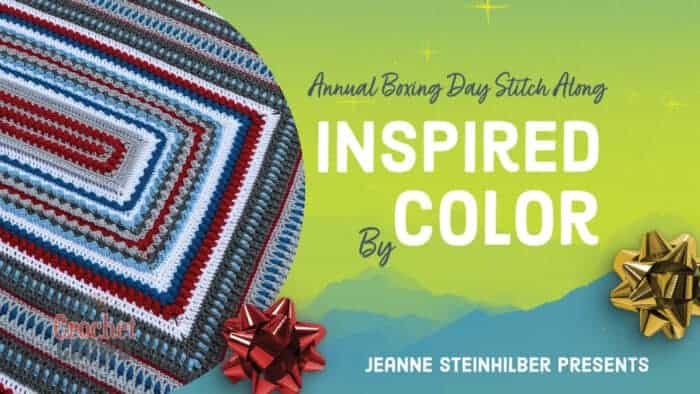 More Stitch Alongs