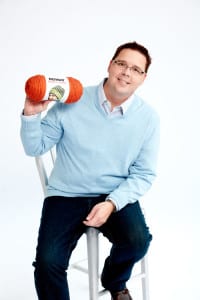 Michael Sellick Biography
Michael Sellick, (he/him)  is known as Mikey of The Crochet Crowd to hundreds of thousands of followers through Facebook and YouTube.
Michael is Canadian and does all of his work from his home studio in Walkerton, Ontario Canada with the co-creator Daniel Zondervan, known as Diva Dan. Life partners in real life, together and with the help of two additional team members, they make up the the administration of The Crochet Crowd.
Free Crochet Workshop for Beginners + Tutorial
Mikey's Background
Michael learned to crochet in 1989 when he was 14. He learned how to chain and double crochet from his mother. He was intrigued by the speed of her crocheting and simplistic designs. She was able to achieve a full scarf in a matter of hours which, in turn, were donated to those in need in the community.
Michael asked his mother to show him how to crochet one afternoon. One stitch led to another and he was hooked on the hobby.
His father never spoke on the subject about him crocheting in his teenage years. It wasn't ignored but it wasn't a subject about being embarrassed that his son was crocheting.
While in the craft store, the cashier had a tone of boys shouldn't be crocheting. Michael wouldn't share with others that he crocheted at home to avoid embarrassment. The crochet was giving him a sense of purpose. He wouldn't clue in that it's therapy on its own until later on in his adult years.
Learning More Stitches
His mother only knew how to chain and double crochet. Michael quickly went back to the craft store to buy a pattern book of stitches. From this book, Michael would play with different stitches and teach himself more stitches to work on. The Catherine Wheel Stitch would be his first project outside of the straight double crochet that he would do next. He was hooked.
Michael, not strong in reading skills in following instructions, gravitated toward the crochet diagrams as he enjoyed reading road maps. He wouldn't do a pattern unless it had a diagram to show him the stitch work.
Until Michael's Mid 30's
Michael would continue to crochet at home, on and off, depending on the season and where he was emotionally in his mind. He clued in 2008 that he only crocheted when he was feeling at the end of his rope. He came to a thought, if he crocheted more consistently and knowing that crochet is a healing mechanism, maybe he should crochet more often instead of when life is hitting the skids.
Pre-Crochet Crowd 2007 – 2008
Michael was volunteering a Pen Pal to a school in New York with a special needs class in 2005 – 2007. He volunteered for the same teacher at a Grade 5 Level where the kids would each write Michael a letter and Michael would write each student a letter back. The letters were monthly and was very rewarding. In the era of Tiara having her Top Model Series, Michael came up with concept that each of the kids were just as important as Tiara. The kids and Michael would have at the top of their letters their first name and ending in 'mail'. If you notice the YouTube Channel is http://youtube.com/mikeyssmail The name of Mikeyss Mail is from volunteering with this class. Michael simplifying his online name from Michael to Mikey came to be with this class.
The Crochet Crowd concept was accidentally born in March 2008. He had lost his crochet book that he had since he was a child. He went online and found a website called YouTube. At the time, he didn't know what it was. He found people teaching online. Feeling bored and useless to society, he decided to try teaching a few courses online just to say to the world that he has skills he can share.
He was getting up to 10 views per day and was super excited that he was teaching a few people each day. He realized if he films more and puts more thought to it, he can teach more people. Michael is a statistics fanatic in measuring analytics and goal setting. In receiving 10 views per day, he set a goal for himself to see what will it take to get 1 Million Views on YouTube.
His life fell apart again in 2008 with the end of a relationship. Daniel would come along in January 2009. Daniel, being a performing musician, understood what living life is like in the public eye. He would come to embrace the vision and continually encourage right from Day 1.
The Prediction
Daniel had gone 8 years without a relationship as he was taking care of his mother. Daniel had a friend that was a psychic and predicted 6 months prior to us meeting. The psychic predicted that a new relationship would come along and that his soul partner is a public figure but the partner doesn't know he is a public figure yet. The psychic said the person is involved in an unusual field of work that is entertainment but not in the sense of music performing. 
Upon meeting Daniel, Daniel clued in that the YouTube involvement that was in the egg stages. Instead of dismissing this concept in free teaching, he encouraged it as he was curious to see what would happen.
Daniel's name of Diva Dan is derived from the MSN Status Update left on his MSN Chat Box on the first date Michael and he shared. He stated he was being a 'Domestic Diva' in cleaning his house waiting for Michael's arrival. Michael having a gift of word play instantly nick named him as Diva Dan which has become Daniel's online persona name.
Michael received his first million hits in just under the one year mark of being on YouTube. Michael re-aligned his goals for five million which came quickly.
The Crochet Crowd 2010
In two years, Michael had earned 8 million views on YouTube. The mere hobby of teaching people began to absorb every waking moment in being a leader. Facebook had come along offering communities/pages. The company was officially named in September 2010 to The Crochet Crowd. The name was brainstormed and Daniel came up with the name of The Crochet Crowd.
In the two years prior, it was realized that we had developed a very social and interactive community online. Our name is a reflection of the community spirit that we share online.
Mikey and Diva Dan appeared for the first time in public at the Creativ Festival in Oct 2010.
In November 2010, they had visited the Spinrite Factory Outlet where the store manager, Michelle MacDonald knew through gossip who they were. Michelle, Michael and Daniel instantly bonded. They realized they have a commonality which is the sense of goal making and undeniable drive to succeed. Michelle was instrumental in helping Michael and Daniel understand the behind the scenes workings of the craft and yarn world.
Michael also started working on making tutorials for AllFreeCrochet.com. He got involved in blogging where the mentors at Prime Publishing, owners of AllFreeCrochet.com taught Michael the value and concept of blogging. The learning curve was steep on how to blog but the hard lessons were invaluable and is one of Michael's engagement outreaches to his fans.
Growth of The Crochet Crowd
The Crochet Crowd was a steady pace of growth. While some believe The Crochet Crowd has sprung up over night, it has been a series of progressive steps which involve working for free or little income for 4 years while in development. Both Michael and Daniel had full time jobs during the growth period with income from their other jobs to subsidize the operational costs of running The Crochet Crowd.
Michael gets a personal thrill out of recognizing everyday crocheters. He is an everyday yarn crocheter and loves to share in the celebrations of others around him. It is the mission of The Crochet Crowd to give recognition and meaningful interaction with as many people as possible.
The Crochet Crowd has exponentially grown to populations that are hard to believe. Though Michael cannot respond personally to every comment, email and communications that the fans expect from him. He tries his best as his major role is to keep the inspiration flowing with free tutorials and ideas through free patterns.
As The Crochet Crowd grows, so does Michael as he learns just as much from the participants in the community. The Crochet Crowd today is driven by raw passion where his sense of working hours are combined with the desire to help others with the strong excitement of playing with yarn. He is living his creative passion.
Major Goals Accomplished
YouTube Channel of the Month for July 2012
Michael maintains one of the top 3 channels on YouTube in Canada.
Leader in online teaching and instructional videos in both presenting, editing and social reaching.
Facebook Community is the most engaged and quickest growing crochet community.
Development of the Annual Retreat known as Crochet Cruises
Development and maintaining a weekly free magazine called Mikey.
Maintains the most engaging and interactive showcases at the semi annual Creativ Festival.
Lead Online Instructor for Red Heart Yarns, 2013 – 2014.
Yarnspirations Socialite, 2015 to present.
Michael maintains his own personality with sponsorship without being a spokesperson. His self personality allows him to be objective and speak to his own views without representing a third party. This flexibility has allowed him to have fun and create interactive campaigns where his fans are given choices and praise without being formal.
Growth Milestones – Subscribers
January 2011 – 14,000 YouTube, 800 Facebook
January 2012 – 31,000 YouTube, 5,000 Facebook
January 2013 – 69,000 YouTube, 17,000 Facebook
January 2014 – 174,000 YouTube, 193,000 Facebook
January 2015 – 264,000 YouTube, 482,000 Facebook
January 2016 Prediction – 350,000 YouTube, 750,000 Facebook
Working Schedule
Michael works everyday. There is no such thing as weekends or holidays. Those who are self employed would understand this concept more than anyone. Unit of measure is based on output of interaction, tutorials and articles.
The Crochet Crowd would have never been successful if Michael had stuck with a 9 – 5 pm mentality. His goals for success drive him to work obscene hours.
Michael works a minimum of 12 – 16 hours in a day. He has no concept of weekends or holidays. He crochets in the evenings unless time isn't allowing for it.
Michael's Role
Encourage creativity in others through established communities.
Work directly with sponsors for campaign building, concept launch and follow through.
Plan, produce, edit and make crochet tutorials.
Produce content for the Mikey Magazine and guest blogs he participates with.
Write articles targeting crocheters sharing about fun finds of free patterns.
Work with guest bloggers and assistants of The Crochet Crowd for a cohesive work flow.
Give crocheters choices and alternative suggestions when it comes to creativity.
Interact and engage the community.
Michael is an expert at Social Media, he consults for Social Media from time to time.
What is Michael?
Content Producer
Online Community Leader
Crocheter & Simplistic Crochet Designer
Yarn Artistry Crocheter aka Free Form over Established Shapes
Editor
Video Host & Educational Teacher
Public Speaker
Social Media Director / Consultant
Product Demonstrator
Michael's Boundaries
Michael maintains his own voice and opinions on products, services, ideas and more. He has developed the concept of being transparent with his loyal followers and will not compromise his opinions or statements for a paycheck. He is not a spokesperson of any company but merely a socialite of ideas and community sharing that allows him to maintain his authenticity.
If Michael makes an error or something is going wrong with his website programming. Michael is the first to admit when he is at fault and keep communications open between him and his members.
Michael's Personal Life
You don't hear Michael talking about visiting friends or family very often. Off camera, Michael is really quiet and keeps to himself. His online personality and when in public as Mikey, The Crocheter, he is the life of the party. He loves yarn and ideas and it shows.
Michael doesn't watch TV or keep up with current events happening in the world. In social settings, he has no idea what is happening around him to be able to comment or add an opinion to current events. He will stay quiet and listen but rarely offer an opinion on a subject where he has little or no information about to form an opinion.
Outside of the public persona, in person, he is introverted and reserved. He doesn't surround himself with very many people. Most of his relationships are strictly cyber with no interaction in person. He is not one to call people on the phone to chat, nor have anyone over or visit anyone.
Both Michael & Daniel don't spend much time with other people. They do everything together, including visiting the convenience store. Daniel is a performer and also secludes himself when not in the public eye.