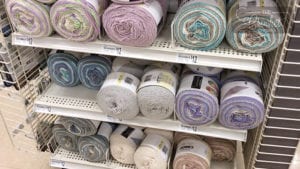 Caron Cotton Cakes
Caron Cotton Cakes returns this spring back at Michaels Stores across North America. Stores are currently resetting and getting in their new yarn to put onto the shelves.
There's a BIG difference, pun intended. Due to demand from customers, Yarnspirations uped their game to make the balls bigger. Also, they included solids as the original never had any solids.
Michaels' presentation has the solids in the centre of the shelf, and the colours are either side of the solids go with the colour.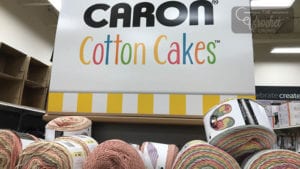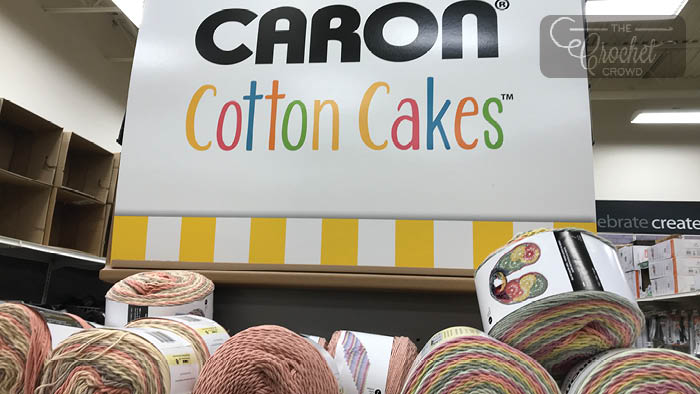 So How Big Are They?
The original size was 100 g/ 3.5 oz, 193 m/ 211 yds. The new size is 250 g/8.8 oz, 485 m / 530 yds. You can see, the new balls are the size of 2.5 balls of the original size. The price is reflective of receiving so much more yarn.
This is one of my favourite yarns in my top 5 at this time. I love the look of the finished projects. I love the feel and multi-uses you can do with this yarn. You can see the new yarn is several repeating colours as the balls are so big.
Pattern Suggestions
Potential Gang Busters
I know from watching social media, a lot of people have been wanting this yarn to return back. I think initially, once the stores start receiving their stock, it has the potential to get wiped out pretty quickly but I believe they have produced enough yarn for quick shelf replenishment. Having said that, last night at our stitcher's club, the girls wiped Michaels out of the one colour on the shelf in just one swoop.
So I think through who are early will be able to scoop up the yarn pretty quickly but more will be on the way. The official Michaels launch is April 19th but some stores may be still waiting as there are over 1200 stores to get stock to be delivered.
Caron Cotton Cakes Ideas
Caron Cotton Cakes Projects">No post was found with your current grid settings. You should verify if you have posts inside the current selected post type(s) and if the meta key filter is not too much restrictive.