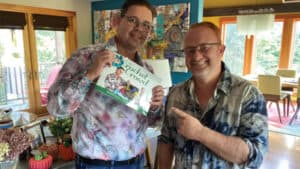 I fell to pieces in front of our book launch attendees at the Avondale Sky Winery in Newport Landing in Nova Scotia.
Our publisher arranged a book launch gathering as a final tribute for our first book on the agreement that everyone attended was vaccinated and we remained outside. I will explain. In attendance were some of the families that were in the photographs of our book and publisher staff.
John, our publisher, wanted us to address the small group who attended. I was thinking about what to say and Daniel and I were talking about it on the way to the event on things to say to this particular group of people. We don't really reveal too much to each other so one doesn't pick up the other person's thought process so it authentically our own thoughts.
---
We would like to thanks McIntyre Purcell Publishing Inc, John McIntyre, Rick Conrad, Veron Oickle, Tom Mason, Heidi Jirotka, Tanya St. Amand and Baker & Taylor Publishing Services for making this possible. To the families that worked with us, thank you ever so much. On behalf of our designers, Jeanne Steinhilber, Anita Grover, Kathleen Nolen, Megan McHugh, Daniel Zondervan and I, Michael Sellick. It took a village to bring this book to life.
---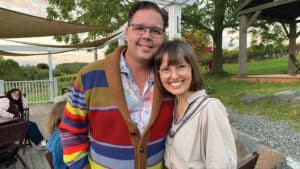 We were able to speak to all of the families one-on-one in detail prior to addressing the group as a whole. They were sharing details about their photoshoot experiences with our photographer, Heidi Jirotka.
We tasked her with the mission to find people of different body shapes and backgrounds.
Heidi was saying the photography was such a challenge of staying socially distant and responsible for getting around and taking photographs. This is why all of the photographs, with the exception of Poppi, the baby, being indoor. You will see in the video, the mother is flipping about Oden being in the book. Oden is the family dog. During a break in the photoshoot, Poppi's diaper needed changing and Heidi snapped a photo of their dog. You will see the dog next to Poppi's photo in the book. They had no idea Heidi took a picture of the dog until the reveal.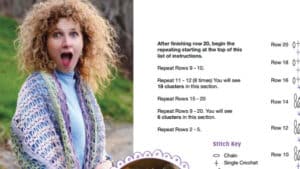 I came to learn that Marianna, was freezing wearing my shawl. She was jumping up and down in the photograph to keep warm. The sun was going down. Both her and Heidi drove in separate cars and as the sun went down, they pulled their cars up without 6 feet and sat in their own cars to warm up.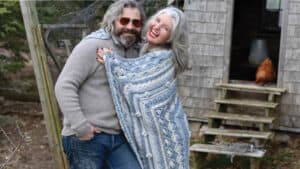 When the pandemic hit, Mr. Adams decided not to cut his hair or shave until the pandemic was over. He would eventually have to cut his hair and shave as the pandemic lasted longer than he expected. No kidding, eh.
His lovely wife, omg, a personality I could shoot the tea with, big time. We have a lot in common and I found myself bouncing my head up and down with her thoughts as we think a lot of similar things. He's still yummy, even shaved! Just saying!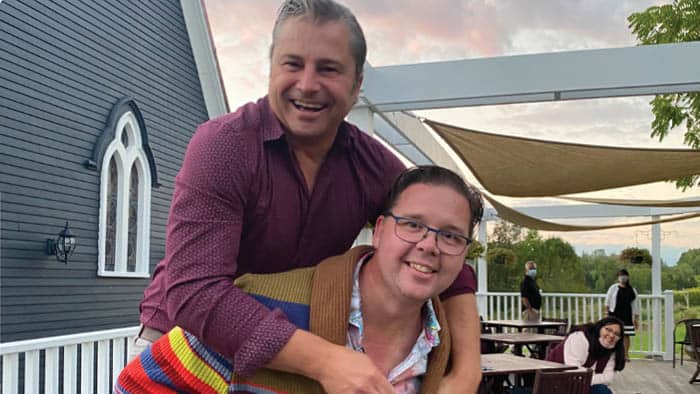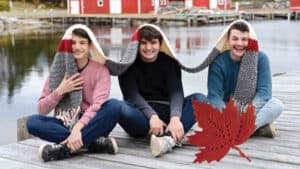 The boys were one of Daniel's favourites for the book. They turned out to be Mr. and Mrs. Adams, three sons. The two oldest are attending university and the youngest is in his last year of high school.
From left to right are Thomas, Will and Mick. Speaking bluntly, all three of these young men are incredibly bright and very socially engaging in conversation. I was quite shocked as many younger people in this age group tend to stay quiet.
The boys were cold during their photoshoot and put the scarf over their heads as a fun moment to warm up their ears. Heidi was wearing her mask taking photos and steaming up her glasses and a lot of the shots of the boys were ruined by the lack of focus as a resolve of the fogging of her glasses.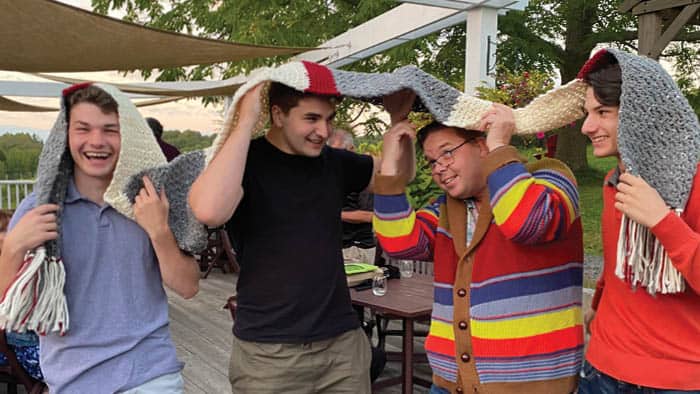 The day Daniel and I did our second photo shoot, it was the beginning of December and it was so warm out. We found the photoshoot to be really awkward as it's rare for one of us not to hold a camera. I didn't think this shot would ever make it to the book as there is an air conditioner just over my head behind me that you don't see. Heidi has an amazing eye to see things we don't.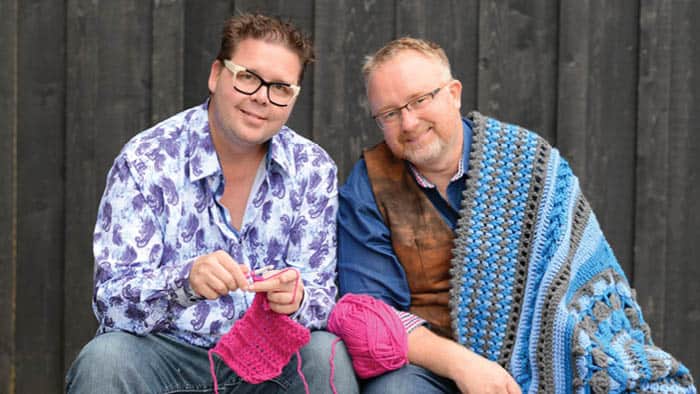 You see, each of us had our own story about the journey of the book's work. At the moment smack dab in the pandemic. We came together, as separate moments, to produce the book.
Daniel's Talk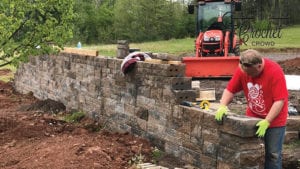 Daniel went first to address the group and 'stitched together' the importance of diversity through one stitch at a time. For me personally, it was really meaningful. Stressing that each person selected to appear in our book has a purpose beyond just smiling with our samples.
He has this ability to turn a moment and put the pieces together for the journey. Like building his garden wall, each brick is important. In the journey of the book, he did the final stitch to thank the families and those missing for assisting us in our journey.
Mikey's Talk
As Daniel spoke, I looked upon the crowd and it dawned on me what to say. I had only thought of the idea of stressing their importance but Daniel covered it so beautifully.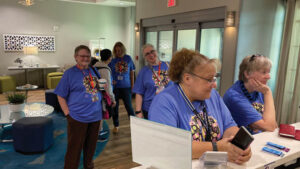 It occurred to me that it's the first time since March 2020 that we have been in a group of people that are there for the same reason related to our mission of community building.
For me, it was a personal struggle to put myself in a group of people when I am comfortable on a stage and addressing people. It hit me on stage that the people looking back at me each have and continue to have their struggles with the pandemic. It's a community issue, not solo. We are truly never alone in our journey and facing similar obstacles.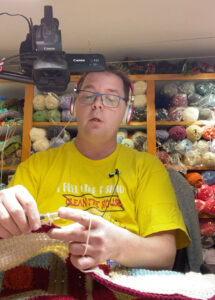 I did the book for one purpose, to secure my spot in history with a printed book to say "My team with Daniel and I was here in this moment of time…" the book will outlast me but marks a bit of my journey to put me in one of the most amazing cyber communities that truly is beyond words for what has been accomplished.
I would later share in my talk a lesson that I have learned through this pandemic, "Cyber isn't enough to keep us connected!" We need human interaction, face-to-face to properly function and the power of our words can be soothing and also the razer thin blades of destruction. We are each responsible for others.
The pandemic has revealed to people I know that their lives aren't as full as they thought it was. What was important is different today than pre-pandemic. For some, a change of the journey is in motion or coming ahead. An awakening.
---
The backstory that Led to the Crack
We came back off the last crochet cruise in March 2020 and found ourselves at the beginning of a pandemic that changed everyone's lives. Many of us found ourselves underwater struggling to tread water in the new reality of socially distancing, masking up and avoiding gatherings. For myself, I am self-employed and have a crew of team members that need to be taken care of and if I collapse as a result of not doing my best, I will have failed the responsibility to ensure my team and immediate people around me are the priority.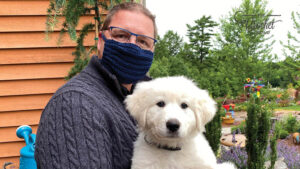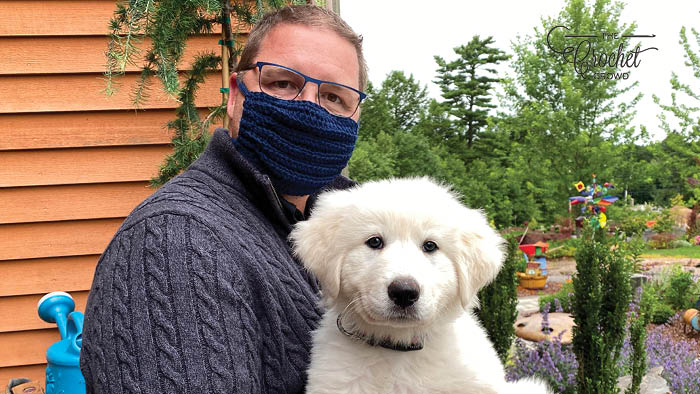 By the summer of 2020 when Nova Scotia was facing a rough patch, our mask mandate went into effect by the end of July 2020 and is still in effect today in the middle of September 2021. Yep, for 14 months, we have been masking up and trying to keep apart.
PuppiDawg was still a baby and I consigned myself to my crochet mask. Double layered inside and the crochet mask itself. I came to the realization in late Spring 2021 that my mask is now my new identity and with the rush to find a mask early in the pandemic, I changed my mask over to something easier to wear.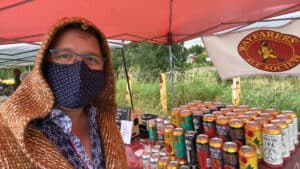 As the months passed on, I became increasingly paranoid and doing my best to avoid people. My tea order is always through an APP and I pick up my ready-made tea without having up-close human contact or waiting in line.
We followed our Nurse Practioner's advice in January 2021 and listened to her instructions and said our vaccinations will come in May 2021 and they did with a second dose scheduled for fall 2021. Nova Scotia powered through the first round and appointments were moved up ahead of schedule by 6 to 8 weeks for the second dose. So by the end of July, we have gotten through our 2 week period of waiting for the second dose to take full effect before allowing ourselves the flexibility to be in public in a more secure manner.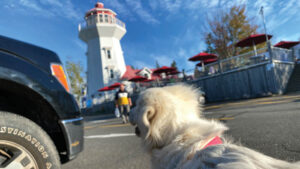 It became the question, do we wait for more Nova Scotians to be vaccinated before allowing ourselves to be freer without a mask? I found myself heavily conflicted and even attending outdoor events, even vaccinated, I wondered if I should remain masked so if I became a carrier, that I would be protecting someone else who isn't.
For Daniel and I, masking up is more about protecting others than ourselves. So there's not been a hesitation for us since the mandate was imposed. While some of the public has verbally protested us wearing the masks, I'll be honest with you, the people protesting at us are mostly people who are not local or even people we've ever met. So their wishes are their own but I have to take care of the decisions that I personally make.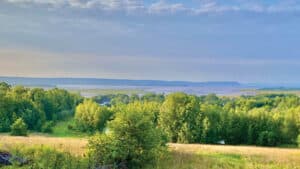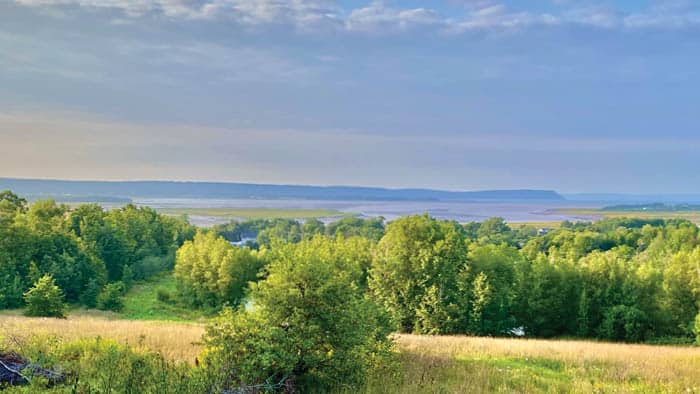 I've watched local businesses fold under the collapsing pressure of the lockdowns we have had. One of the places, they have every intention of keeping the public wearing the masks even when the government lifts the mandate. I'm all for it. I've come to really appreciate this business and another lockdown is could be the nail in the coffin for it. So I feel, if they need to keep the masks on to protect their staff and to assist from any spread, it's better than another lockdown. It's the least I can do to assist them to stay in business.
I was questioning over and over whether our book launch should be scheduled due to my own paranoia. We were allowed to have some additional guests and kept it really small to be responsible for the number of people in one space gathering.
I'm terrified of having people come together at this moment in time. I have another event that is scheduled coming up and I am so conflicted emotionally by it. It's something I need to work through in my head.
More Ideas
More Collections