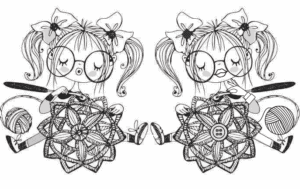 So beyond impressed with Debbie Deitke's Crochet Activity Book. I mean, the level of word and picture puzzles. I can actually see myself taking one of these on a trip to exercise my mind and enjoy my hobby without a hook in my hand.
Looking for an idea to give to a crocheter for Christmas? This is really cool. The detail is second to none.
Puzzles inside the book include:
Word Searches
Word Scrambles
Word Ladder
Word Find
Logic Puzzle
So Many Words
Trivia
Crossword Puzzle
Cryptogram
---
More Ideas
---
That's not all... how about picture puzzles that include:
Mazes
Picture This
Odd One Out
Two of a Kind
Reflection
Shadow Match
Last One Standing
Picture Slice
There's more that include:
Find the Numbers
Suduko
You will actually learn stuff in this fun book. The answers for each puzzle are provided at the back of the book so you have the solutions. I can see these are great stocking stuffers or just someone wanting to kill time waiting for appointments and crocheting conditions aren't ideal.
I ordered 3 books for the next Crochet Cruises as a gifting option. I have seen the entire book and think it's brilliant! I've never seen so many puzzle options before, given the fact it's all crochet is even better.
Links to Find her Self-Published Book
Please use the country link that you find yourself in. There are geotags in the links that will show you an error if you open a link and you are not in the same country. I'm Canadian, so the USA American Amazon Link won't work for me.
Canadians Only Barnes and Noble
Americans Only Barnes and Noble
---
PS. This is a complimentary review and there are no affiliate links attached. Links go directly to the purchase pages, we don't practice affiliate links on The Crochet Crowd.
More Books