The Crochet Sniffle Stations will be the final community celebration before the big boy comes flying down the Chimney. Designed by Michelle Moore, from Nova Scotia. 
The sniffle stations have a concealed box of tissues inside the cover that comes out below the nose of the character. The gold pot can hold candy canes and/or a bottle of sanitizer. Great for home or office decor. Choose from Santa, a reindeer or an elf. Or do all of them? They are super cute.
The pattern includes the crochet diagrams for most of the sections.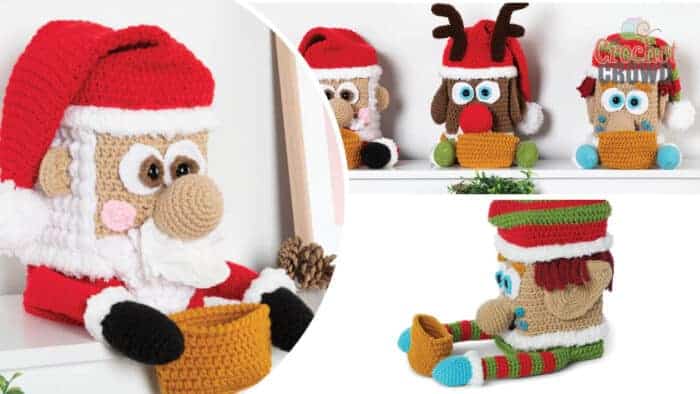 I had them for display in my home for Christmas on the back of a sofa table. They are really a joy and highlight for a Christmas decor item.

Tutorials for all of the characters are listed below.
.
.
---
Designer Profile
Michelle Moore, from Nova Scotia, is known for her Amigurumi. In fact, she created three additional designs for us for one of our Crochet Cruises called the Round Rascals Series. The intention was to take a soccer ball shape and give them character.
You can click on the pictures to get the free patterns for these too.
---
Our team has picked 3 projects where they can work together or split them apart. The project is outrageous that it will most likely command smiles when you look at them.
The project is something you can customize to match someone you care about. You can add personality and personal touches that mean something important to you or the person you may be considering giving it to. The project is something, for those who observe Christmas, may feel it's timeless and can carry on into the years to come.
---
Most importantly, these are small gift ideas that many of us will have the yarn already on-hand to use. Turn to the stash. Other than one item, you may already have this on-hand and hook out Christmas Gifts with meaning and purpose.
How It Will Work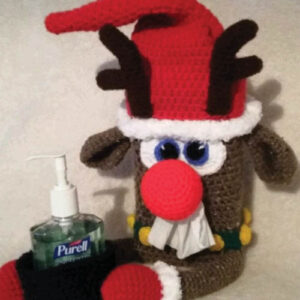 I will be presenting the main item that they all share as the first puzzle piece. However, you will know exactly what we are making the first day. Then, randomly, like a Christmas Surprise, I will be releasing the videos in a puzzle format, meaning, you can pick and choose the next part of your story.
For those who cannot wait, the entire pattern will be released on the first day, which will be real soon. For those who can read patterns, you can skip ahead and for those needing my help in a tutorial format, I will be presenting this. There could be up to 2 puzzle pieces a day.
The worksheet is 12 pages. You can download the PDF and/or print it so you can check them off as you go!
Playlist Sorting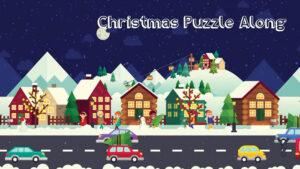 I expect there to be a lot of puzzle pieces. I am going to organize them into two separate playlists. One for righties and one for lefties so there is no confusion. The puzzle pieces will be organized in the playlist as they appear in the worksheet.
Gauge Warning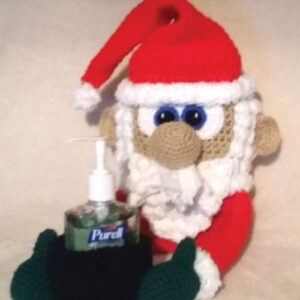 I know this designer and she crochets really tightly. I had to sub a 5mm to a 4 mm to get the right dimensions. For the 4 mm to sub down to about a 3 mm. You will know instantly by the top of the box in the first few rows if you are going to be too loose or tight.
14 hdc x 14 rows = 4" [10 cm] square
You will be able to customize the top when you start. For example. Michelle has 14 rows in the beginning, I only did 13 rows and then began to go down the box. It will work out.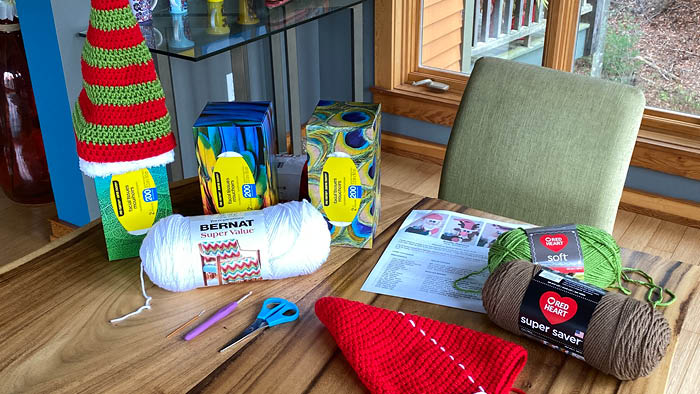 Materials List
Hook H (5mm)
Hook G (4mm)
Red Heart Super Saver (or similar med. WW yarn): 100g (or less) of Red, Light Brown (I used Vannas Choice Barley), Dark Brown, Green, Pink, White, Yellow, Black, Eye Color, Mitten Color.
Bernat Pipsqueak or any Fuzzy or Fun Fur in White
Tissue Box approx (23 cm x 12cm x 12cm, 9" x 4.25" x 4.5") OR other box for which you can adjust your hook size to meet the stitch counts.
Hand Sanitizer - I used Purell Advanced 236 ml
Sewing needle/ Large eyed Darning needle
Scissors
A bit of Polyfill Stuffing. You could use stuffing from a pillow you already have.
Stitch Marker, spare yarn is fine.
Pins
This Article Will Be Updated
This article will be updated in real-time as we go. The videos will be linked here and separated by the Right and Left Hand. I have put the link above for the direct playlists themselves on YouTube. Those will be updated in real-time.
More Ideas
---
Tutorials Right Handed
Video: Box covers for all three characters.
Tutorials Left-Handed
Video: Box covers for all three characters.
More Christmas Ideas
No post was found with your current grid settings. You should verify if you have posts inside the current selected post type(s) and if the meta key filter is not too much restrictive.