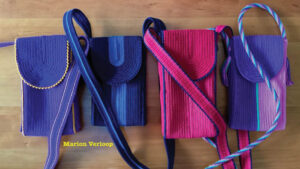 Marion Verloop has done it again with another incredible pattern edition for mobile phones. This is the Crochet Mobile Mochila Bag.
This is known as Wayuu Crochet, a concept developed by the Wayuu Tribe of Colombia.
Tightly stitched with precision, this concept is nearly making a project that will last forever and a day. Intended for the patient crocheters that love detail and quality.
Due to the technique, it takes Marion several months to make a pattern. She doesn't just design, she does the craftswoman's work herself. It's really admirable. Marion has other paid designs you may be interested in as well.
The link to the pattern will direct you to her Ravelry where you can review the pattern info and make a purchase if this is your heart's desire. Check out her other patterns. It's simply incredible.
More Ideas

Tutorial
Marion also has free tutorials on her YouTube Channel. Tips and tricks.
More Patterns