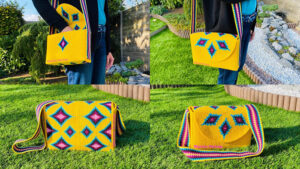 The Crochet Mochila Messenger Bag is designed by Marion Verloop, a leading expert of Mochila Designs and instructions.
This concept is from the Wayuu Tribe of Colombia and is also known as Wayuu Crochet.
A thin usually, cotton, based yarn is crocheted ever so tightly to form these iconic-looking bag designs. Marion Verloop has designs that you can purchase. Due to the technique, a design takes several months to make.
More Ideas

Tutorial
The tutorial demonstrates a Key Card Holder that would be used on a Crochet Cruise. You can learn the concepts from this tutorial.
More Wayuu Crochet