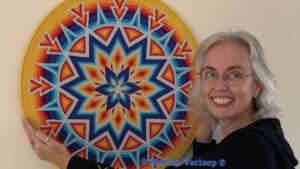 Marion Verloop, an expert of Wayuu Crochet, has developed the Crochet Mandala Cordial for experienced crocheters. It is spectacular and for those who remember me talking about her in the past, her patterns take months of development and stitch by stitch trial as she designs.
The stitchwork is really tight and this is her passion with crochet. Mochila concept isn't for everyone but Marion blows me away with her level of patience and dedication to this craft form.
Her pattern is $5 EUR and includes 20 pages of instructions. The mandala is 23.5″ in diameter. She also provided a smaller version that is about 16″ for those looking for something smaller.
Having worked her patterns personally in the past, she leaves no stone unturned. The small price of $5 EUR is an investment for a crocheter who cannot churn these out quickly as they are super fine in detail and the results speak for themselves.
You can visit all of her designs at Marion Verloop's Ravelry Home Page.
More Ideas

Tutorial
Introduction to Wayuu Crochet which is this crochet form.
More Wayuu Crochet
This technique is really specific and takes a lot of time to make just 1 pattern. Most patterns in this realm are not free.