---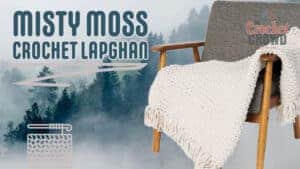 If someone surprises you and you don't have much time, the Misty Moss Crochet Lapghan can be crocheted quickly and designed for beginners.
This stitch has several names, such as granite stitch and moss stitch. It's used a lot in scarves, clothing and more. The idea is to crochet in the spaces for easy access and quick stitching.
I will have a new crochet tutorial for you, linked below.
---
Pattern Details
Project Size: 32.5″ x 40″ lapghan
Gauge: 7.5 sts and 7 rows in moss stitch.
Designer: Yarnspirations Design Team
Stitch Multiple is 2 chs + 2
Hook Size on Pattern: 10 mm / N/15
Yarn In Pattern: Bernat Blanket
Pattern Date or Last Revision Known: October 26, 2022
Please use the pattern for details on yarn quantities, gauge and other details not listed here. This pattern may have been updated since the creation of this tutorial, and the information or presentation of the printable PDF may have been changed without notice.
More Ideas
Make it thick and chunky with the Lush Life Bernat Blanket. A free tutorial is included to help you.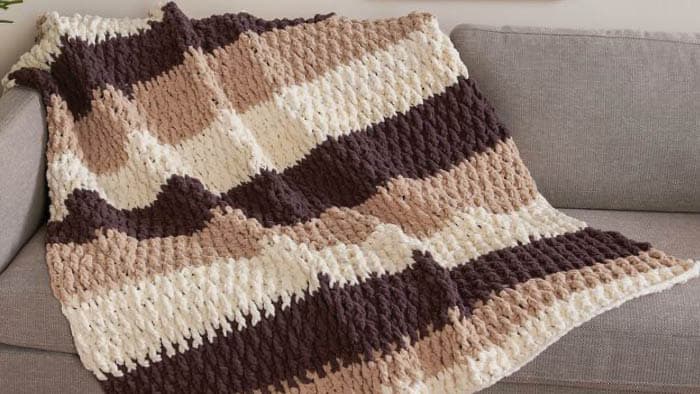 ---
Tutorial
---
More Bernat Blanket Yarn
Bernat Blanket Yarn" data-style="grid" data-row="1" data-layout="vertical" data-rtl="" data-fitrows="" data-filtercomb="" data-filterlogic="OR" data-filterload ="" data-sortbyload ="" data-orderload ="false" data-fullwidth="" data-fullheight="null" data-gutters="[[320,5],[480,5],[768,10],[980,10],[1200,10],[9999,10]]" data-slider='{"itemNav":"null","swingSpeed":0.1,"cycleBy":"null","cycle":5000,"startAt":1}' data-ratio="1.78" data-cols="[[320,1],[480,2],[768,3],[980,3],[1200,3],[9999,3]]" data-rows="[[320,200],[480,200],[768,220],[980,220],[1200,240],[9999,240]]" data-animation='{"name":"Fade in","visible":"","hidden":""}' data-transition="700ms" data-ajaxmethod="load_more" data-ajaxdelay="100" data-preloader="1" data-itemdelay="100" data-gallery="" data-ajax="">
1

2

3

4

5

6

7

8

9

10

11

12

13

14

15

16

17

18

19

20

21

22

23

24

25

26

27

28

29

30

31

32

33

34

35

36

37

38

39

40

41

42

43

44

45

46

47