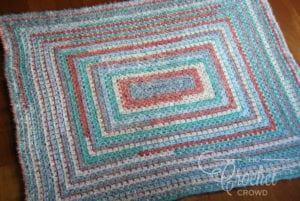 Crochet Latte Lapghan
Have you tried the new Caron Latte Cakes yet?  It's a really soft yarn and the colors are very gentle.  I decided the Persimmon Blue Cakes I picked up would make a really nice comfort lapghan for a friend of mine in need of some love.  This is really just another #MG Modern Granny, but I wanted to show you how lovely this looks when crocheted with the Latte Cakes.
The yarn is very generous and I only needed 3 Cakes to make this 42″ x 50″ lapghan.
When you upload your project to The Crochet Crowd Stitch Social Group or Instagram, please use #MG or #ModernGranny so I can see what you have crocheted.  Follow me on Instagram @ jeannestein or on Facebook.  My designs can also be saved in your Ravelry favorites by following me HERE.
Tutorial
Caron Latte Cakes
Modern Granny Ideas
Designs by Jeanne