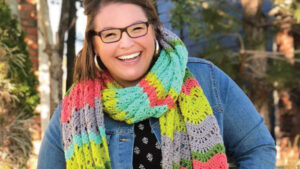 Marly Bird is a self-brand like Martha Stewart in the yarn field. She encompasses the love of the yarn arts through crochet and knitting. She is no stranger to a home studio or professional television set.
Marly started this journey by breaking through with her pushing her love for the yarn arts out into a public stage. She has several books and probably one of the longest-running Podcasts in this industry.
Back Story
Daniel and I sat with Marly back in 2014 as we were the hosts for Red Heart. Marly was in the groundbreaking stages of beginning her YouTube Channel and learning some tough lessons. Like Marly, we could relate that getting started is a tough gig.
Little did either of us know at the time. I mentioned contacting Yarnspirations for her to become an educational host. A few months later, I found ourselves hosting for Yarnspirations and Marly moved into hosting for Red Heart. You never know what the future will hold.
The Differences of Stitch Ambassadors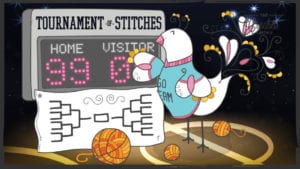 All of the Stitch Ambassadors have a unique role with Yarnspirations. The Crochet Crowd, us, stays only in the crochet. Marly Bird can bounce between the two worlds. She is also a host for Michaels Stores for their online teachings through Yarnspirations.
Marly can interact with a wide variety of audience bases. Myself, I struggle if the audience is too wide because I can be pulled off-track in my thinking and presentation if someone claims they are struggling and I need to backtrack. I take it personally when I have left someone behind. Marly knows how to professionally navigate this and stay on track. That's one of her many terrific strengths.
Marly also doesn't mind being face-on camera where I tend to stay behind the camera more. Marly Bird, as mentioned above, is a brand onto itself. To those who know her brand, you see her face and instantly know her name. Myself, because I stay behind the camera, many people join The Crochet Crowd without knowing who I am or even knowing I am a YouTube host.
Like the other hosts such as Jonah, Tiffany & Hannah, Tamara and Sarah, we each present our skills in a unique way for our own community base. Yarnspirations brings us together to continue our presentations with their support.
---
6 Choices Selected By Marly
Each Stitch Ambassador was asked to select as many choices for The Annual Holiday Guide 2021 that they felt their communities would enjoy. You can see all ambassador choices if you want to see approximately 880+ free patterns. I decided to select 6 that Marly chose that you may be interested in. I'm going to stay on the crochet side of this because of our website and main genre. Click on the picture for those patterns.
---
Marly Bird Patterns
Marly also has patterns on her website that I think you may be interested in. I personally selected these choices that you may have missed. Click on the picture for those patterns.
---
More Ideas
More Collections