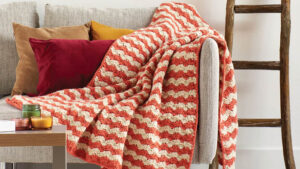 The Crochet Satisfying Shell Stitch Blanket is a very easy repeating blanket. 2-Row Repeating with colour changes.
In this pattern, you can either cut the yarn and change the colours as I show in the tutorial but you can also carry the yarn up the side if you are just using two colours. The final border will cover over the top of the carrying yarn so you don't have to deal with so many yarn tails.
The repeating is so simple and the blanket grows nicely. I think this is one of those patterns where you put the hook into the wind and let the pattern ride itself. You can put down the paper and enjoy the stitching journey as you watch TV or relax.
Stitch multiple is 6 chs + 2.
More Ideas

Tutorial
More Blanket Patterns