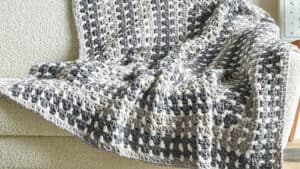 The Crochet Super Chunky Crochet Blanket is a self-proclaimed modern granny in rectangle format. Crochet with Bernat Blanket yarn.
This is a two-round repeat once the pattern gets established and creates a generous size warm thick blanket without a lot of hesitation.
If someone surprises you or you are in a rush to crochet a blanket, this pattern is ideal as a gift-worthy blanket.
I really think this gray that is shown allows you to have this blanket concept blend in with most neutral colours. It can probably shield the look of pet hair and dust in your home.
More Ideas

Tutorial
More Crochet Blanket Patterns