The thick Amber Cove Knit Hat by Mikey is an easy-to-follow hat. I am using Bernat Forever Fleece Tweeds in the colour called Amber.
Mikey prefers to knit hats on circular needles and then switch to double-point needles at the crown to close it at the top.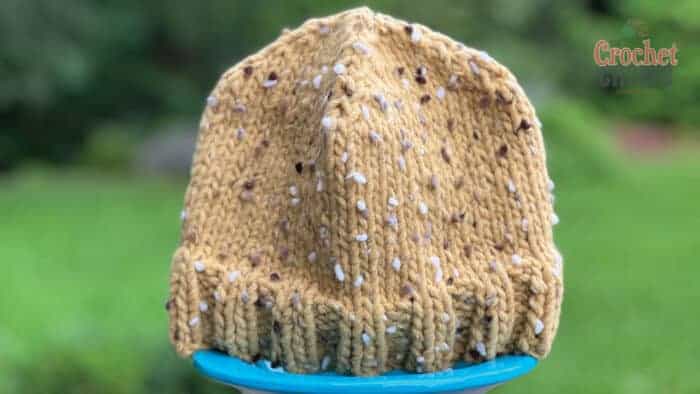 Yarn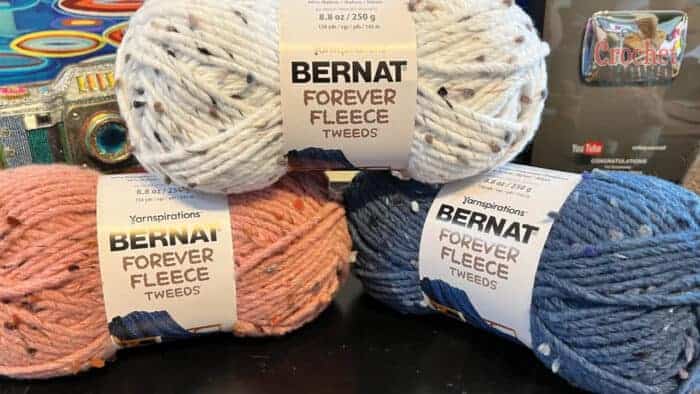 Bernat Forever Fleece Tweeds (you can almost get 2 hats out one ball)
Size US 11 / 8 mm Circular Knitting Needles about 16″ long and a set of 5 US 11 / 8 mm double-pointed knitting needles
Usage of a stitch marker would be helpful.
This will fit an average adult.
Gauge 11 sts and 14 rnds = 4″ [10 cm] in stocking st
Abbreviations
Alt = Alternate
Approx = Approximately
Beg = Beginning
K = Knit
K2tog = Knit next 2 stitches together
P = Purl
Rem = Remain(ing)
Rep = Repeat
Rnd(s) = Round(s)
Ssk = Slip next 2 stitches knitwise one at a time. Pass them back onto left-hand needle, then knit through back loops together
Instructions
Cast on 56 sts to circular knitting needles. Placing marker on first st.
1st rnd: *K2. P2. Rep from * around.
Rep last rnd 6 times more.
Next Rnds: Knit in rnds until work from beg measures 7″ [18 cm].
Shape crown: 1st rnd: *K2tog. K10. ssk. Rep from * around. 48 sts.
2nd and alt rnds: Knit.
3rd rnd: *K2tog. K8. ssk. Rep from around. 40 sts.
5th rnd: *K2tog. K6. ssk. Rep from around. 32 sts.
7th rnd: *K2tog. K4. ssk. Rep from around. 24 sts.
9th rnd: *K2tog. K2. ssk. Rep from around. 16 sts.
10th rnd: *K2tog. Rep from * around. 8 sts.
Break yarn leaving a long end.
Thread end through rem sts and fasten securely
Tutorial
In Production.
Try Another Knit Hat
Mikey is new to knitting and he's just be playing with different hat patterns. Last year he completed the Knit Snow Speckled Hat. It has a tutorial and Sarah from Repeat Crafter Me also did the crochet version of this hat.