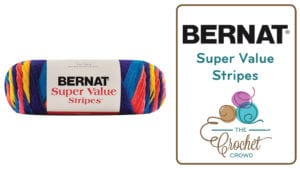 What To Do With Bernat Super Value Stripes Yarn
Bernat Super Value Stripes predates the creation of Caron Cakes and Bernat Pop Yarns. Take a look at the picture below showing a Corner to Corner sample. You can see the colour stays a while and then suddenly changes over to  new colour.
You should know it doesn't stay as long of colour as the Caron Cakes or Bernat Pop. So it's really not comparable in that sense. Just saying the variegated isn't as quick as typical variegated of 2 - 7 inch lengths.
Designed originally for newbie crocheters who want different colours but are not 100% comfortable with cutting yarn strands. For us experienced crocheters, it allows us to sit back, relax and crochet until our hearts content without of colour changes.
The yarn line has super terrific mixes of colours and is 100% acrylic. So for those allergic to wool or other animal blends, this is also a super choice. Due to this yarn being part of Bernat Super Value, it's priced for the everyday knitter or crocheter.
Bernat Super Value is one of my favourite brands of yarn in general. It allows me to be on budget with my yarn purchases and I am overall satisfied with the look and feel of Super Value when my project is done.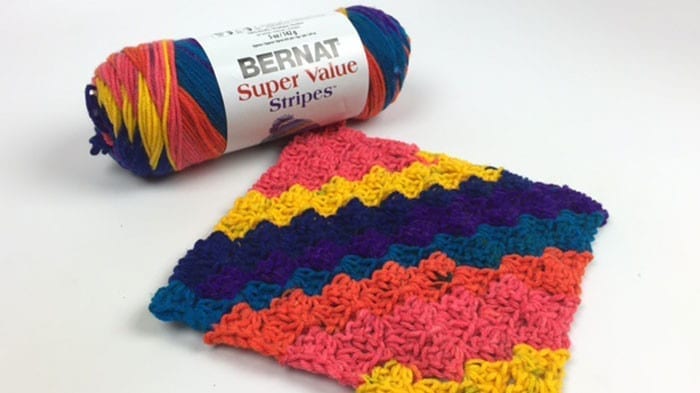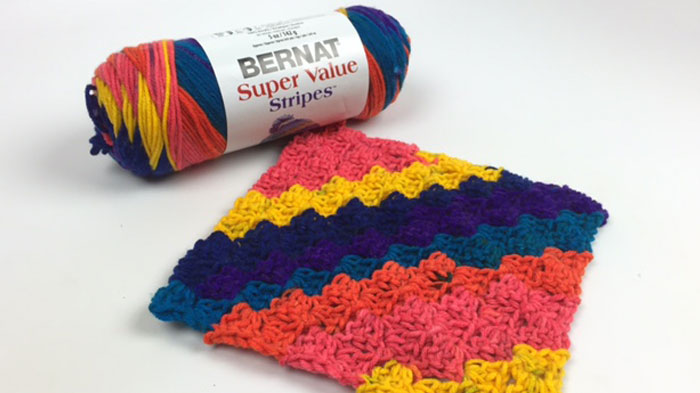 Yarn Story
Show your stripes with Bernat Super Value Stripes yarn! This self-striping yarn is perfect for easy care crochet and knit garments and accessories for the whole family.
Content: 100% Acrylic
Ball Size: 5oz/142g, 264 yds / 241 m
Care: Machine wash, machine dry.
Gauge: 4 – Medium Worsted
Knitting Gauge: 18 sts and 24 rows with 5mm (U.S. 8) knitting needles
Crochet Gauge: 13 sc and 14 rows with a 5mm (U.S. H/8) crochet hook
Recommended for: Knit and crochet garments, accessories, and home décor.
More Bernat Yarns
No post was found with your current grid settings. You should verify if you have posts inside the current selected post type(s) and if the meta key filter is not too much restrictive.