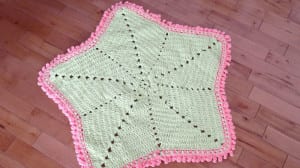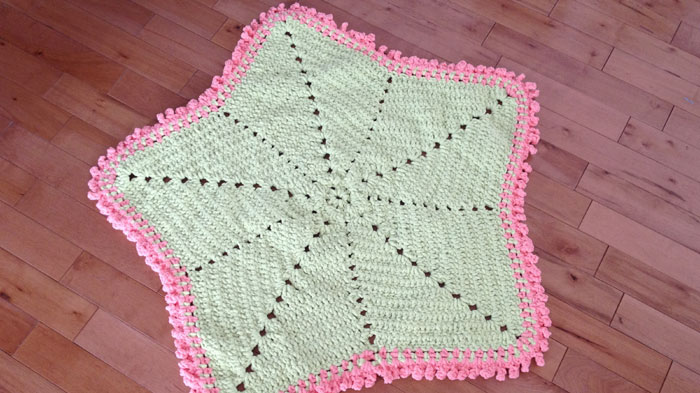 Crochet Baby Blanket Star
This Crochet Baby Blanket Star measures about 43″ across the tips and is using the basics to create the shape. It's made with Bernat Baby Blanket Yarn that is really thick and easy to work with. Due to the thickness, a blanket like this is very quick to make.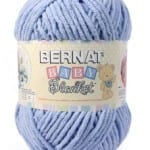 I don't like to waste yarn, so I used two full balls of the Bernat Baby Blanket 300 g size in the green colour and a portion of the orange colour for the 300 g for the trim.
You can use this free pattern, Baby Star Blanket to get you started. The star tutorial will get you started. Please use a Size N or 10 mm, Crochet Hook, with this yarn.


Pattern Suggestions
You will continue to get bigger until you are close to the end of the 2nd Green Ball. We will do the border and I will tell you how I did it.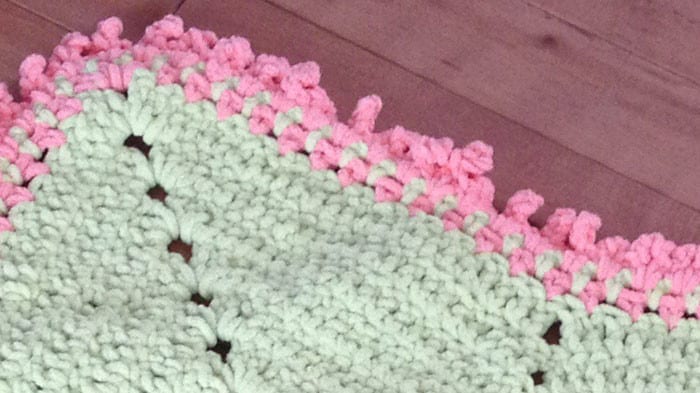 Change your colour to a different one. The picture shows it as pink.
Join pink yarn, Ch 1, sc into the same stitch. *Skip 1 stitch, sc into the next. Repeat * around. On the tips of the star, you put in 1 sc, ch1, 1 sc, ch 1, 1 sc, followed by a ch 1, skip 1 stitch to start up again. Fasten off the pink.
Join the green to ch-1 space. Ch 1, sc into the same space. ch 1, *skip 1 stitch and sc into the next. Repeat * around. Fasten off the green.
Join green with sl st to any ch-1 sp. Ch 1. (1 sc. Ch 4. Sl st in 3rd ch from hook. Ch 1. 1 sc – extended picot made) in the same sp as last sl st. Skip next sc. *Extended picot in next ch-1 sp. Skip next sc. Rep from *  around. Fasten off.
Video Tutorials
Star Videos
Extended Picot Stitch – Used in Mystery Afghan
Fast forward to 10 Minute Mark for the extended picot stitch.
Crochet Baby Blanket Pattern Ideas