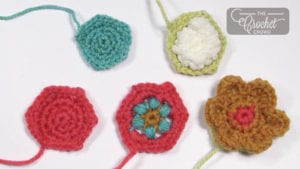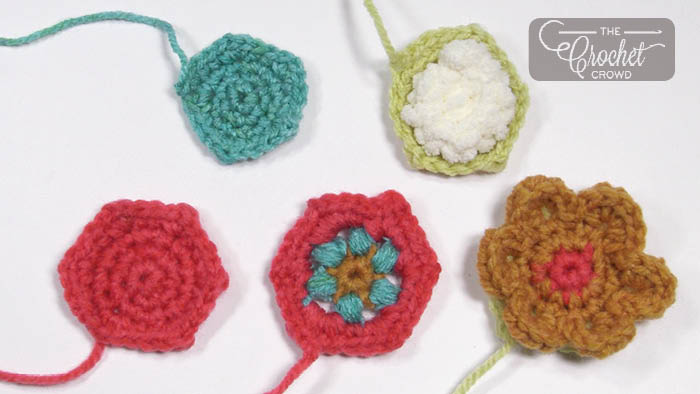 Cruise Clues
For the Panama Crochet Cruise, we are working on a mystery project. Over the two weeks on the cruise, you will be presented with more clues to continue the mystery throughout the cruise. By having your homework done, you will progress into Clue #2 on the ship. Having the homework done in advance allows you to get to the fun and work together as an onboard community faster. 
There are a total of 3 different projects but crocheters just need to commit to 1. There are colour suggestions for each of the projects but you are welcome to change any colours you wish.
If you really don't like doing the flower based motifs, you can substitute for plain motifs. However, you need the minimum number of plain motifs as stated below in order to make the pattern work.
Highly recommending you stick with 1 brand for each of your motifs. I found during the filming that changing the brand out created motifs that were not consistent in size. The fluffy pentagon is novelty or fun yarn, I found Bernat Blanket was really nice as a choice. It gave it the look the designer is going for.
Recommending you bring the main colour of yarn you selected with you to the ship. In the event you realize what we are doing and need to change out a motif, you have the exact brand and colour with you to do so. We are bringing Bernat Super Value

as the yarn of choice to continue your mystery on the ship.

The sizing is approximately 2″, however, you need to focus on being tight. If your motif is 2.5″, not a big deal.

Just ensure you continue with the same tension for all of your motifs. Just be consistent with your crochet and it should work out.

Be sure to bring with you your 4 mm, G/6 Hook, main colour yarn and tapestry needle with you. Recommending you put your motifs in a baggie or keep each style of the motif in a separate baggie. Be sure to label your baggies with your name in the event you drop it or leave it on a table.
Homework is essential to bring with you. You will not be switching our projects with others on the cruise. If you cannot do your homework, please get a friend to do your homework. Just ensure their tension is the same as yours.
I'm instructing the leadership team not to hand over their homework for those who come to the ship without their homework. We are on board the ship for 2 weeks. Generally speaking, in past cruises, our leadership team hands over our homework so crocheters can work with the rest of the group.
Download Homework Sheets
Click the sheet to download or print.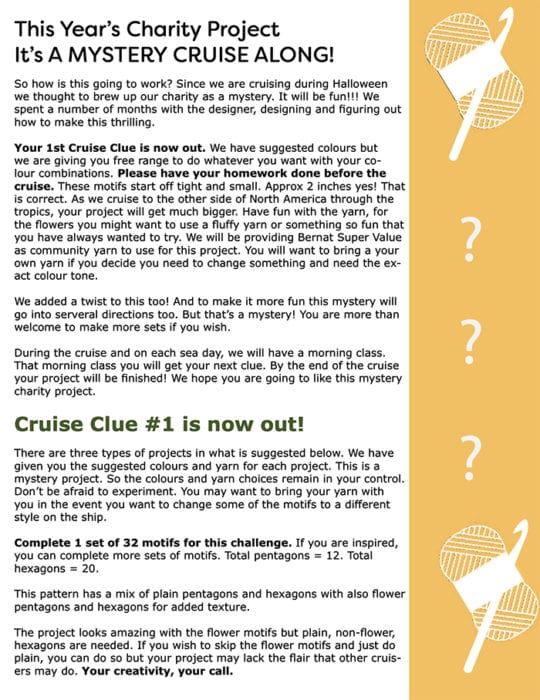 Tutorials – Right & Left Handed
Overview of the Motifs
Plain Pentagon – Make 5
Fluffy Pentagon – Make 7
Plain Hexagon – Make 8
Hexagon Flower A – Make 6
Hexagon Flower B – Make 6