No sign up required.
There will not be a binging option for the tutorials. They will be each week on Tuesdays.
Each Tuesday, Starting November 1st, the new section of the pattern will be out. This will be over 4 weeks, ending on Nov 22, 2022.
---
A common request from several people inspired the Crochet Snow Days and Hot Chocolate Blanket. A blanket represents winter that incorporates snowflakes and texture. A blanket that doesn't need to be put away after Christmas can go throughout the entire season.
While any of us can apply meaning to a project, I am leaving it to crocheters to apply the meaning they most prefer. This is projected to be released as a stitch along in November 2022. We are still working out the details and filming schedule. It's tentative to be on Yarnspirations.com as a free pattern.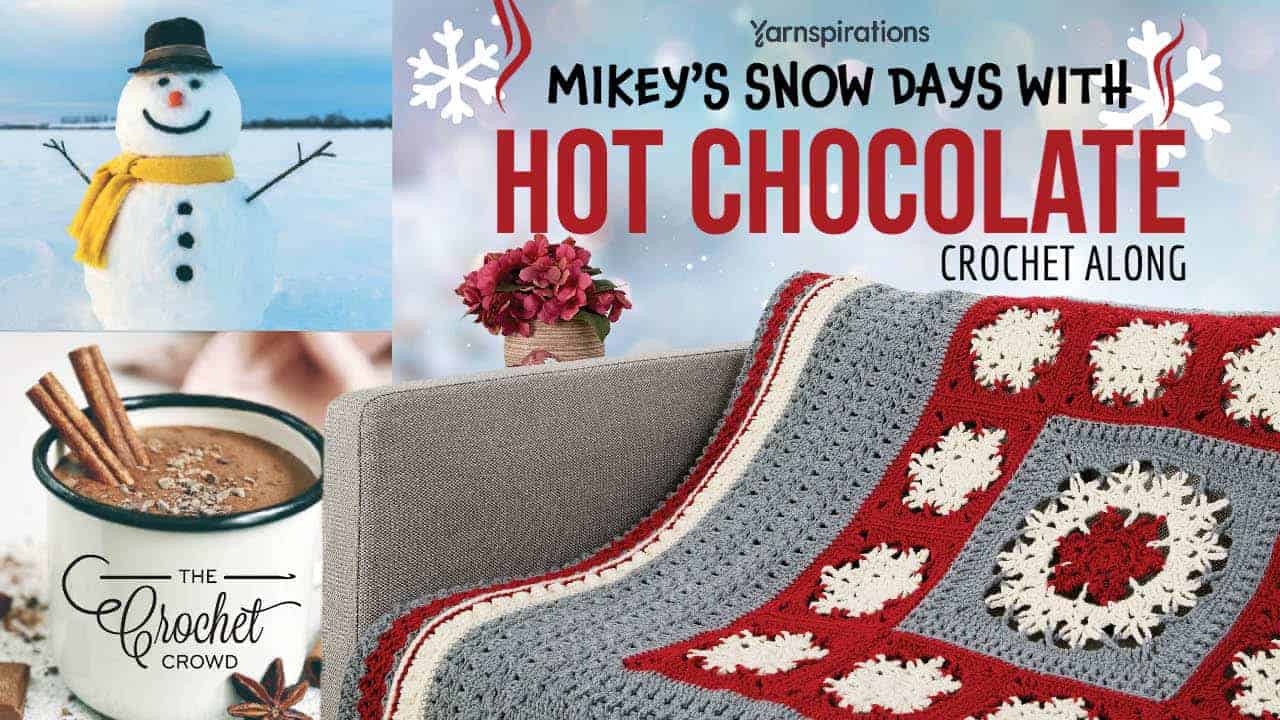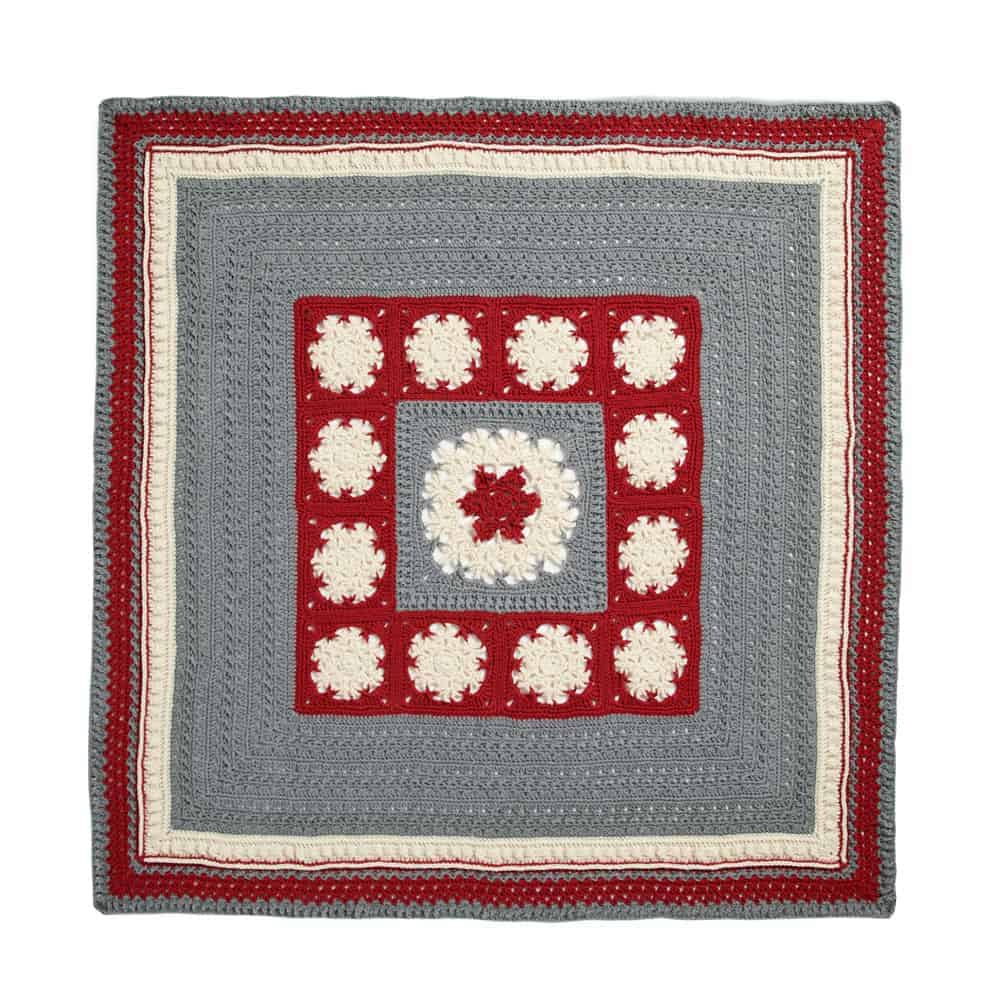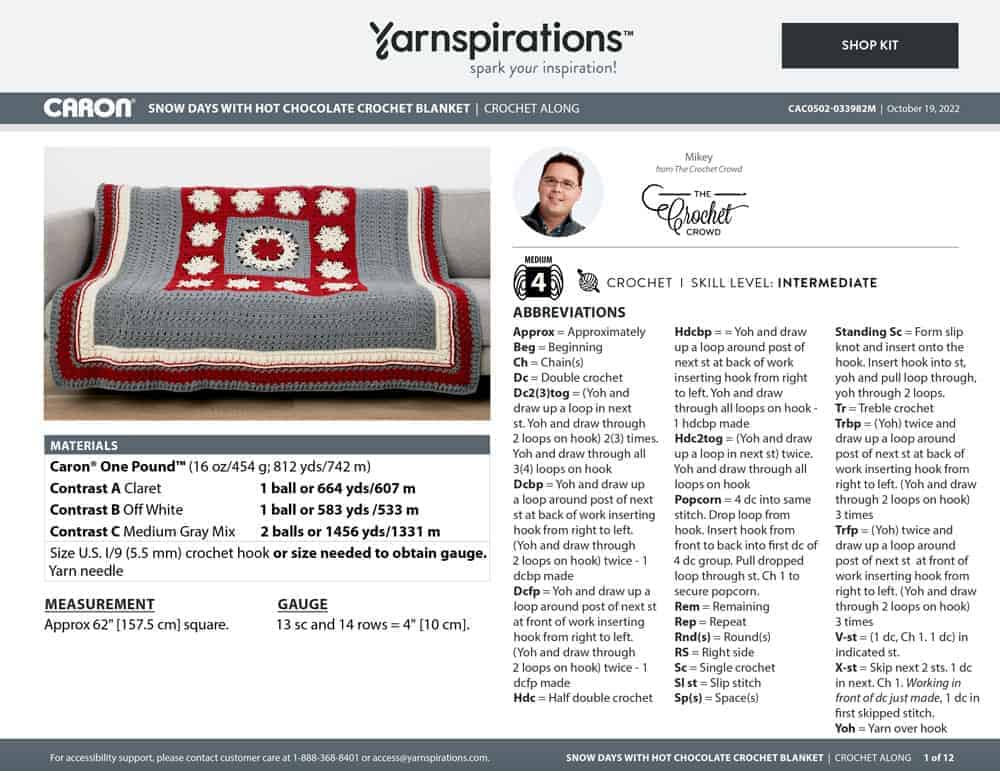 For the yarn of choice, I picked out the three colours I wanted to use without the intention of a sock monkey or work socks. Once I saw it as that colouring, I felt it was more meaningful.
Preview of the Snow Days and Hot Chocolate Blanket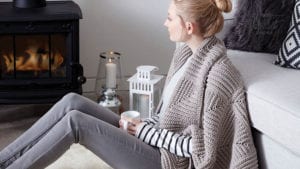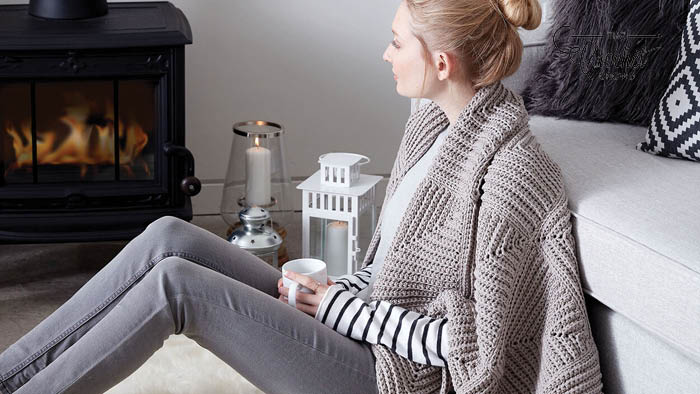 It got me thinking about the Crochet Mighty Ridge Afghan. Recently, we had a power out for several hours in August 2022. I was thinking about this person sitting by the fire wearing this blanket. I tend to go nuts when the power goes out, but the instinct to bunker down and keep busy without using too much cellular power is the key.
Though you cannot see it in this photo, this person is wearing work socks of the iconic grey, red and white, holding what I think is a cup of hot chocolate.
My Mission Became
Create a blanket that is one to keep the chill off as you wait for a few hours as the power is out. A feeling of the winter colouring with snowflakes. Textural interest and ease of crochet.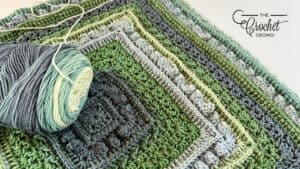 A friend of mine, Ann, came to me during the design with a stitch combination that I hadn't seen before. We worked together to get her stitch work out in a square format. Our stitch-along blanket is done but then I wondered about her combination in a stand-alone baby blanket format. It got me thinking that this could be for next year, 2023. Yarn, you see 1 ball of Caron Jumbo in Lake Mis,t and the second ball on the picture is Caron Jumbo White Water. The two ball would be able to make a baby blanket. I'm still working out the kinks. The bobbles aren't sitting in this example very well, and I think I need to review that section again.
This pattern isn't ready to come out.
---
Stitch Along Pattern Details
Project Size: 62" x 62"

[157.5 x 157.5 cm]

Gauge: 13 sc and 14 rows
Designer: Michael Sellick
Hook Size on Pattern: 5 mm H/8 Caron One Pound,

454g / 16 oz, 742 meters / 812 yards

A -

Claret - 1 Ball 373 g / 13.1 oz, 607 m / 664 yds

B - Off White - 1 Ball 328 g / 11.5 oz , 533 m / 583 yds

C - Medium Gray Mix - 2 Balls 815 g / 28.7 oz, 1331 m / 1456 yds

Pattern Date or Last Revision Known: August 2022
---
Tutorial
Officially begins Nov 1, 2022.
---
More Collections
Stitch Alongs