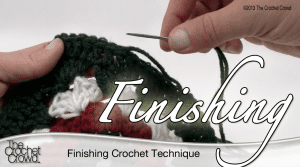 In September 2013, my technique and the way I finished my projects were forever changed. The way I was finishing off my projects with just a simple sleight of hand and weaving in my ends was okay but I wouldn't say that it was 'Fabulous'.
Now that I changed my technique and know a better way, I would say my old way was lazy and leaving me a bit stressed.
While at Spinrite Factory Outlet in September 2013, I was finishing off my ends. My friend Michelle, manager of Spinrite Factory Outlet, asked me if I knew how to finish off so that you don't worry about your yarn tails falling out or doing a peek a boo maneuver? I was like not really, show me something new.
Michelle demonstrated the technique I am showing below in my video tutorial. I should have already known this but I didn't. It was new information.
Since that very moment, my finishing technique was changed because I realized the way she showed me was a professional way and you never have to worry about yarn tails falling out. Even today, I start off with extra-long tails of yarn so I can finish off my project professionally.
With the technique, you use a darning needle and run the tail end through a section of the finishing area. You slide back and forth under the stitches 3 times. Due to the yarn being slid back and forth 3 times, the yarn will never pop out as it cannot wiggle its way out.
So today, I spend an extra minute doing this technique at the end. It has changed me and the way I do my projects forever. Today, when grabbing my yarn, pattern, hook and pencil, I automatically grab my darning needle as I tend to weave in my tails as I go... in certain cases like afghans, I wait until the end. It just makes sense.
Pattern Suggestions
See my technique below... it may just change how you finish your projects too!
More Tutorials To Check Out