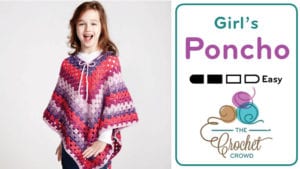 Crochet Girl's Poncho 8 -10 Years Old
The Crochet Girl's Poncho is a one-piece garment that slides over the head of the child. There have been many requests from Crocheters to have the adult size called the Crochet Cool Poncho using Caron Cakes substituted for two reasons:
Make the neck opening smaller.
Make the garment one piece instead of two pieces for the adult size.
This pattern will allow you to get started. Start the same for both Adult and Child. The neckline for us adults will be smaller than the Crochet Cool Poncho. Follow the pattern as suggested and make the poncho as long as you need it to be. Instead of stopping for 16" for the child size, just continue to crochet until your desired length. The Cool Poncho has fringe and you can opt to do fringe to skip it.


Pattern Suggestions
Yarn Substitution & Adult Sizing
If you want to substitute Bernat Pop with Caron Cakes. You will see need 3 balls of Caron Cakes. If making an adult size, you can continue to add to the pattern and make it longer. You will need to figure out how much more yarn you may need. For Caron Cakes or Bernat Pop, plus 1 extra ball will be needed.
Using the Girl's Poncho for a starting will stop the plunging neckline if that is an option.
Tutorial
Other Tutorials Featuring Ponchos
This is a playlist of all of our videos for ponchos. For kids and adults alike.
How to Add Fringe to A Poncho or Any Garment
More Crochet Poncho Pattern Ideas
No post was found with your current grid settings. You should verify if you have posts inside the current selected post type(s) and if the meta key filter is not too much restrictive.