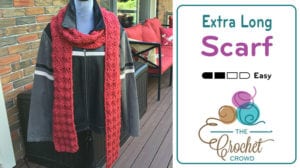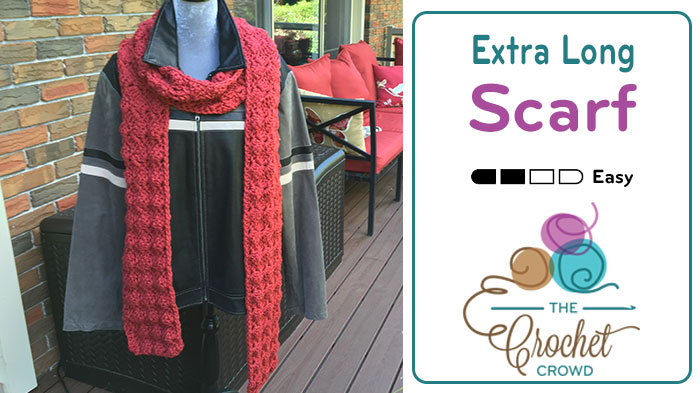 Crochet Extra Long Scarf
Trending this fall is super long scarves. Scarves are the fashion accessory of the winter. Long scarves are nothing new, think about Dr. Who and his signature scarf. This is the Crochet Extra Long Scarf pattern.
Just for fun, I created a new scarf that is 94″ long and is chunky using the Bernat Softee Chunky Yarn.


The stitch is simple, it's using Corner to Corner Stitchwork without doing it Corner to Corner on the diagonal. The rows are horizontal. This same stitch appears as one of the blocks in the Baby Sampler Blanket by Yarnspirations.
Pattern Suggestions
Materials Needed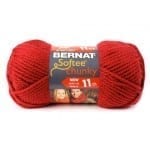 You will need the following to create my scarf:
8 mm or Size L Crochet Hook
4 Balls of Bernat Softee Chunky
Darning Needle to Weave in Ends when complete.
This type of stitch works in multiples of 4+2. So this means if you crochet the chain in groups of 4, at the end of the chain you add 2 additional chains.
There are 57 groups of 4 plus 2 additional chains at the end. The starting chain is therefore 230.  There are only 8 rows in the entire scarf. It will crochet up really quickly as it's chunky yarn and a large hook.
Instructions
Chain 230
Row 1 (RS): Sc in 2nd ch from hook and in each remaining ch across, turn…
Row 2: Ch 1, [(sc, ch 2, 4 dc) in next sc (cluster made), sk next 3 sc] until you get to the end, sc in last sc, turn,
Rows 3–7: Ch 3, 4 dc in first sc, (sc, ch 2, 4 dc) in ch-2 sps, repeat until the end. sc in last ch-2 sp, turn.
Row 8 (RS): Ch 3, [dc in next dc, hdc in next dc, sc in next 2 dc, sk next ch-2 sp, sk next sc] repeat [] until the end, dc in next dc, hdc in next dc, sc in last 2 dc. Fasten off.
Video Tutorial
Crochet Scarf Pattern Ideas