Crochet Hooded Patterns
From a baby shower gift to a gift for yourself, these hooded patterns are the perfect projects to be working on right now. A fun mix of hooded patterns for all ages. Whether its something you want to make for your self or for craft shows. These hooded patterns have you covered... Literally.
You have that one jacket that you love but it looks a little chilly out, you just did your hair so you don't really want to muss it with a hat what to do... well if you have the hooded scarf you'd be covered well your head would be without sacrificing your do.
When my youngest gets out of the tub she loves to cuddle and the hooded blankets are perfect for keeping her warm. They also make a great blanket for camping or sitting around the campfire (but not too close we aren't crazy) for keeping the little ones and your self cozy.
---
Crochet Snail Baby Blanket Pattern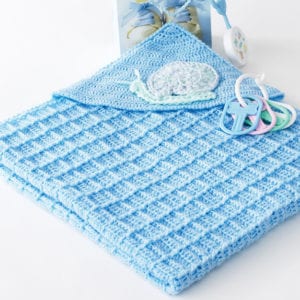 In any colour that you decide to go with this Crochet, Snail Baby Blanket Pattern works up so sweetly. It would make a perfect baby shower gift for anyone you know that is having a baby.
A friend of mine that as expecting really soon and if I hadn't already started a different blanket I would have totally gone with one of these hooded Snail Baby Blankets. When I'm done hers, I might work on making some in a couple of different colours to have on hand for the next baby that comes along. Or to have when my kids have kids many many many years from now.
Although is considered an intermediate project, if you are familiar with the basketweave pattern, this Snail Baby Blanket Pattern is fairly similar. Made using Bernat Baby this baby blanket would make a great gift for any little one.

Crochet Cozy Hooded Blanket Pattern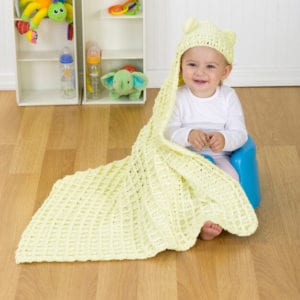 This Crochet Cozy Hooded Blanket Pattern is another cute hooded baby blanket to have in your repertoire. Who doesn't love ears on something, anything really for a little one, not going to lie before I know the art of crochet, I've bought hats for my kids just because it had ears on it. Now that I can make them myself it's really great that my kids are pretty tolerant of the stuff I make them wear.
The Crochet Cozy Hooded Blanket Pattern was Designed by Michele Wilcox, she made it using Red Heart Moon & Stars. I don't think I've seen this yarn but it sounds really lovely and would love to see it if any of you have made this pattern using it.

Crochet Hooded Baby Poncho Pattern
This  Crochet Hooded Baby Poncho Pattern is a great little pattern to make up for when it's chilly and your toddler doesn't want to wear a sweater when my toddler puts her's on she says she feels like a princess. It's great to put on them for our side playing spring is coming it will be that in-between weather soon enough too hot for a jacket too cold not to wear something. I find these great too if you're running errands and a jacket ends up being too warm I know for myself I just throw a poncho on, mind you mine doesn't have a hood... yet!
This cute little Crochet Hooded Baby Poncho Pattern was Designed by Joyce Nordstrom. She made it using Red Heart Light & Lofty, does that yarn not look extremely soft and squishy I would totally wear a poncho made out of this yarn.

Crochet Chic Hooded Capelet Pattern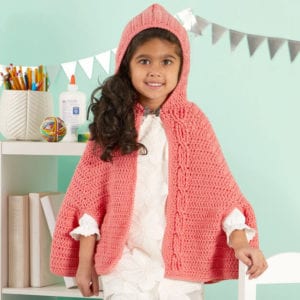 Picture a snazzy little red riding hood. This is what this adorable Crochet Chic Hooded Capelet Pattern reminds me of, and it's too cute not to make up! I love that this capelet has the armholes it makes it easier to wear, I wish more poncho patterns hat the armhole in it, it would make life so much easier especially things like diving to have an armhole in the adult version of capelets and poncho's, there needs to be a universal cheat sheet on how when and where to add arm hols to any pattern, this would make me very happy with life.
The Crochet Chic Hooded Capelet Pattern was designed by Marly Bird, she made it using Red Heart Chic Sheep by Marly Bird. I haven't used it yet, but there are some pretty colours to play with. This is a great car seat type outerwear made in a ball of nice wool this would be really warm with a sweater under it, for travelling in the winter.

Crochet Hooded Cable Scarf Pattern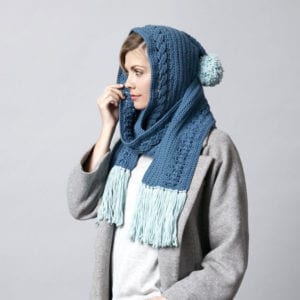 This is a really pretty Crochet Hooded Cable Scarf Pattern as with most of the patterns the photos don't do it justice, the colours are so pretty together. I bought the yarn to make this last winter, but the crow squirrel mix in me keeps getting distracted by all the other patterns I see, this is why I have so many started wips, and also how when I finish it always seems to be a whole bunch at a time, I'm not fast I just start a lot at one time haha. If you aren't big on wearing hats but want something to cover your head on those cold day's this Crochet Hooded Cable Scarf is perfect. It's also perfect for gifts if you need a gift idea for at the office, or friends that you want to give something to.
The Crochet Hooded Cable Scarf pattern is made using Sugar Bush Bold if you don't have access to that particular yarn go ahead and choose your favourite colour of colours in a yarn that you really like.

Crochet Cable Hooded Cowl Pattern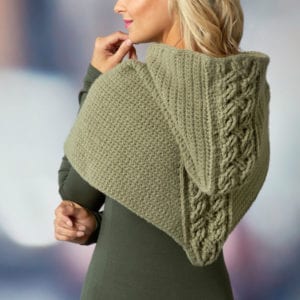 I love everything about this Crochet Cable Hooded Cowl Pattern It reminds me of something an elf might wear in the woods, I just love it. I have added this to my ever-growing project list of things I want to make. This might actually get bumped closer to the top, you can wear this under a jacket it covers the area that tends to get cold when it's chilly out. Or when spring hits wear it over a top, you could also wear it over a tank top when its summer but a chilly evening. The Cable Hooded Cowl is the most versatile piece you will ever make up for your self, if if you're feeling giving for someone else too.
The Crochet Cable Hooded Cowl Pattern was Designed by Quayln Stark. Made using Red Heart Hygge Charm, that is such a pretty yarn no matter what colour you decide to go with this cowl will be so pretty.

Pattern Suggestions
Crochet Hooded Pattern Ideas