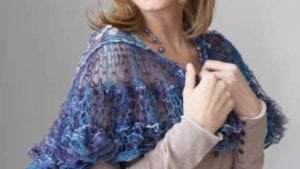 Crochet Sashay Shawls
Learn to crochet Sashay Shawls. It's a lot easier than it looks. It's a matter of understanding the slip stitching and what to look for when doing so.
I have provided a step by step tutorial on getting started.


There is a total of 8 rows. Rows 1 – 6, you will skip every other top loop. This will cause the row to double itself as it means there will be 2 loops on the bottom for every 1 loop on top. This technique is what is creating the drape.
Rows 7 & 8, you will not skip any loops on the top. This will prevent the shawl from getting any wider and will suddenly start to grow straight down.
More Ideas
You will need up to 4 balls of Sashay for the Adult Version of this. Up to 3 balls of Mini Sashay.
Refer to the video for step by step instructions and a quick lesson on how to make one.
Video Tutorial (Right and Left Hand)
Crochet Shawl Pattern Ideas