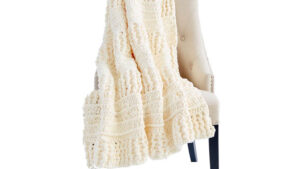 The Crochet Here and There Blanket is highly textured using Bernat Blanket yarn.
The blanket can be used in regular yarn sizes. To change the size of the chain, keep the chain in an odd number count to make this work.
The beginning of the blanket starts off with ribbing and then changes to half double crochet on the horizontal bar. It provides a unique look. You will crochet the blanket until about 62″ using rows 2 – 15. Then finish off with rows 2 – 6 to end.
More Ideas

Tutorial
More Blankets