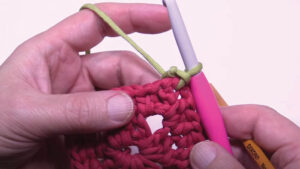 The Half Double Crochet can be a real challenge for figuring out where the stitch is. Here are tips for you.
It's the stitch definition that throws us for a loop when it comes to this stitch. In fact, in most of our stitch alongs, where Half Double Crochet is used in the rounds, it's where most people will miscount and go off the rails. I do as well. I try not to design anything in rounds with this stitch knowing it's my own personal hell.
I've had several issues over the years.
I will add an extra stitch before the corner.
I will add an extra stitch after the corner.
I recently received a sample from Yarnspirations and I noticed the home crocheter was in a different spot in the corner than I had been using for years. They are not wrong, but I noticed they end side 1 further stitch than I do and start the next side 1 stitch after I normally do. I think the trick is to be consistent. The problem is, many people, like me, have used both techniques in the corner at the same time, therefore, increasing their stitch count beyond what it should have been.
Now that I have been the difference, I have more confidence. Also in patterns, I tend to ensure Ch 2 as the start of a row never counts as a stitch. I'm less likely to screw that up as I tend to miss the last stitch when I get back to the same part in the next row. Even though I know it's there, I seem to miss it and end 1 stitch too early.
This is the sample I received where I noticed this. This is the Crochet Make A Point Shawl.


Tutorial
Crochet Stitch Alongs