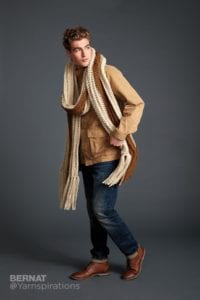 Crochet Highline Super Scarves
Introducing the Highline Super Scarf for Guys! It's a rare thing for scarves to be designed for men. Men don't usually want a girly looking scarf but many guys are fashion conscious. They enjoy the look of fashion but want their own identity.
The Highline Super Scarf is stitched on the horizontal bar which gives it the three-dimensional look. There is a diagram to show you where the horizontal bar is and how to create the fringe if you want the flowing fringe at the bottom.
A great and easy pattern to complete.
There are no multiples involved in making this scarf. Chain as long as you need to and use this pattern to follow. So you can have a shorter scarf very easily.


Pattern Suggestions
Tutorial
9 Ways to Wear a Super Scarf
More Scarf Pattern Ideas