Crochet Mommy and Me Messy Bun Hats by Repeat Crafter Me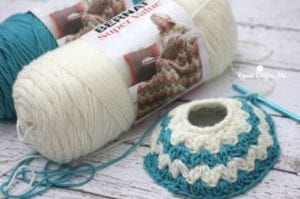 Sarah, founder and awe-inspiring host of Repeat Crafter Me does it again with her new free pattern Crochet Mommy and Me Messy Bun Hats.  When I saw these adorable hats yesterday, I about flipped.
Sarah has created a child size and an adult size messy bun hat that using less than 2 skeins of Bernat Super Value yarn.  And what's even better is that they are so simple, she crocheted both of these in just an hour!
There is a great photo tutorial included with the written pattern to help guide you step-by-step through this simple hat.
You can also follow Sarah on her Facebook page, Repeat Crafter Me Facebook.
There is plenty of time to hook up a few sets of these in time for your holiday gift-giving too. 🙂
Pattern:  Crochet Mommy and Me Messy Bun Hats


More Repeat Crafter Me Patterns
Repeat Crafter Me" data-style="grid" data-row="1" data-layout="vertical" data-rtl="" data-fitrows="" data-filtercomb="" data-filterlogic="OR" data-filterload ="" data-sortbyload ="" data-orderload ="false" data-fullwidth="" data-fullheight="null" data-gutters="[[320,5],[480,5],[768,10],[980,10],[1200,10],[9999,10]]" data-slider='{"itemNav":"null","swingSpeed":0.1,"cycleBy":"null","cycle":5000,"startAt":1}' data-ratio="1.78" data-cols="[[320,1],[480,2],[768,2],[980,3],[1200,3],[9999,3]]" data-rows="[[320,200],[480,200],[768,220],[980,220],[1200,240],[9999,240]]" data-animation='{"name":"Fade in","visible":"","hidden":""}' data-transition="700ms" data-ajaxmethod="on_scroll" data-ajaxdelay="100" data-preloader="1" data-itemdelay="100" data-gallery="" data-ajax="">
Amigurumi Patterns
,
Baby Toys
,
Bernat Blanket
,
Crochet Video
,
Easy
,
Holiday Patterns
,
Repeat Crafter Me
,
Amigurumi
,
Baby Toy
,
Baby Toys
,
Bernat Blanket
,
Bernat Blanket Duck
,
Big Crochet Duck
,
Crochet Amigurumi
,
Crochet Baby Gifts
,
Crochet Baby Shower
,
Crochet Baby Toys
,
Crochet Characters
,
Crochet Stuffed Toys
,
Crochet Stuffies
,
Crochet Toys
,
Duck
,
Easter
,
Quackers the Duck
,
Repeat Crafter Me
,
Sarah Zimmerman
,
Toys
Amigurumi Patterns
,
Baby Toys
,
Crochet Valentines
,
Crochet Video
,
Easy
,
Free Crochet Patterns
,
Holiday Patterns
,
Repeat Crafter Me
,
#5 Yarn
,
Amigurumi
,
Baby Toy
,
Baby Toys
,
Bernat Velvet
,
Crochet Amigurumi
,
Crochet Baby Gifts
,
Crochet Baby Shower
,
Crochet Baby Toys
,
Crochet Bear
,
Crochet Characters
,
Crochet Love
,
Crochet Love Gifts
,
Crochet Stuffed Toys
,
Crochet Stuffies
,
Crochet Toys
,
Crochet Tutorial
,
Crochet Valentines
,
Easy Crochet
,
Gifts
,
Love
,
Repeat Crafter Me
,
Sarah Zimmerman
,
Toys
,
Valentines
Corner to Corner Patterns
,
Holiday Patterns
,
Repeat Crafter Me
,
Bias
,
Bias Stitch
,
C2C
,
C2C Blanket
,
C2C Ideas
,
C2C Stitch
,
Corner to Corner
,
Corner to Corner Ideas
,
Corner to Corner Stitch
,
Crochet Blanket
,
Crochet C2C
,
Crochet C2C Stitch
,
Crochet Corner to Corner
,
Crochet Corner to Corner Blankets
,
Crochet Corner to Corner Stitch
,
Crochet Tutorial
,
Easy Crochet Stitch
,
Granny Square
,
Repeat Crafter Me
,
Snowman
,
Stitch
Crochet Halloween Blankets
,
Crochet Pumpkins
,
Crochet Video
,
Holiday Patterns
,
Intermediate
,
Repeat Crafter Me
,
Blanke
,
Crochet Pumpkin Blanket
,
Crochet Pumpkin Patterns
,
Crochet Pumpkins
,
Crochet Throw
,
Crochet Tutorial
,
Fall
,
Halloween
,
Halloween Blanket
,
Pumkin
,
pumpkin
,
punkin
,
Repeat Crafter Me
,
sarah
Corner to Corner Patterns
,
Holiday Patterns
,
Repeat Crafter Me
,
Bias
,
Bias Stitch
,
C2C
,
C2C Blanket
,
C2C Ideas
,
C2C Stitch
,
Corner to Corner
,
Corner to Corner Ideas
,
Corner to Corner Stitch
,
Crochet C2C
,
Crochet C2C Stitch
,
Crochet Corner to Corner
,
Crochet Corner to Corner Blankets
,
Crochet Corner to Corner Stitch
,
Crochet Tutorial
,
Easy Crochet Stitch
,
Granny Square
,
Repeat Crafter Me
,
Stitch
Corner to Corner Patterns
,
Holiday Patterns
,
Repeat Crafter Me
,
Bias
,
Bias Stitch
,
C2C
,
C2C Blanket
,
C2C Ideas
,
C2C Stitch
,
Corner to Corner
,
Corner to Corner Ideas
,
Corner to Corner Stitch
,
Crochet Blanket
,
Crochet C2C
,
Crochet C2C Stitch
,
Crochet Christmas
,
Crochet Corner to Corner
,
Crochet Corner to Corner Blankets
,
Crochet Corner to Corner Stitch
,
Crochet Tutorial
,
Easy Crochet Stitch
,
Holiday
,
Repeat Crafter Me
,
Santa
,
Stitch
Baby Blanket Patterns
,
Collection Patterns
,
Crochet Video
,
Easy
,
Free Crochet Patterns
,
Intermediate
,
Repeat Crafter Me
,
Baby Blanket
,
Baby shower
,
Blanket C2C Patterns
,
C2C
,
C2C Graphghan Patterns
,
Collection
,
Corner to Corner
,
Crochet Baby
,
Crochet Baby Blanket
,
Crochet Baby Gift
,
Crochet Christmas
,
crochet collection
,
crochet ideas
,
Crochet Mixed Patterns
,
Crochet Patterns
,
Crochet Random Patterns
,
Crochet Round Up
,
Crochet Theme
,
Easy Baby Blankets
,
Easy Crochet Baby Blanket
,
Gnomes
,
Graphghan
,
Marly Bird
,
Nordic
,
pattern
,
Random
,
Round Up
,
Sarah Zimmerman
,
Snowflake
,
Theme
,
Yarnspirations
Amigurumi Patterns
,
Baby Toys
,
Crochet Video
,
Easy
,
Free Crochet Patterns
,
Repeat Crafter Me
,
Stitch Along Patterns
,
Amigurumi
,
Baby Toy
,
Baby Toys
,
Christmas Crochet ALong
,
Crochet Amigurumi
,
Crochet Baby Gifts
,
Crochet Baby Shower
,
Crochet Baby Toys
,
Crochet Characters
,
Crochet Hat
,
Crochet Stuffed Toys
,
Crochet Stuffies
,
Crochet Toys
,
Learn to Crochet A Hat
,
Owl
,
Owl Character
,
Repeat Crafter Me
,
Sarah Zimmerman
,
Stuffie
,
Toys
Baby Hat Patterns
,
Caron One Pound
,
Charity Patterns
,
Crochet Basic Hats
,
Crochet Video
,
Easy
,
Free Crochet Patterns
,
Red Heart Super Saver
,
Repeat Crafter Me
,
Adult Owl Hats
,
Baby Hat
,
Charity
,
Craft Show
,
Craft Table
,
Crochet Baby Hat
,
Crochet Baby Shower
,
Crochet Child Hat
,
Crochet Craft Show
,
Crochet Craft Table
,
Crochet Donations
,
crochet gift
,
Crochet Hat
,
Crochet Help
,
Crochet Owl Hat
,
Crochet Small Hat
,
Donation
,
Easy
,
Gray
,
Helping Others
,
Kids Owl Hat
,
Learn to Crochet A Hat
,
Newborn Owl Hats
,
Owl
,
Owl Hat
,
Red Heart Super Saver O'go
,
Repeat Crafter Me
,
sarah
,
Sarah Zimmerman
,
Shower Gift
,
Small Hat
,
Toddler Owl Hats
,
Whoooo
Corner to Corner Patterns
,
Crochet Video
,
Free Crochet Patterns
,
Michael Sellick
,
Repeat Crafter Me
,
Stitch Library
,
C2C
,
C2C Blanket
,
C2C Crochet Diagrams
,
C2C Stitch
,
Corner to Corner
,
Corner to Corner Half Double Crochet
,
Corner to Corner Stitch
,
Corner to Corner Written Instructions
,
Crochet C2C
,
Crochet C2C Stitch
,
Crochet Corner to Corner
,
Crochet Corner to Corner Blankets
,
Half Double Crochet Corner to Corner