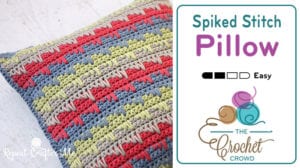 Crochet Spiked Stitched Pillow
The Crochet Spiked Stitch Pillow was designed by Sarah of Repeat Crafter Me for Yarnspirations. Featuring the Bernat Maker Home Dec Yarn line.
The biggest beef I have with crochet pillows is actually finding the pillow forms to go inside the project. At my local stores, it can be a hit or miss on finding the right sizes. Also, some pillows are just too big or too small for my living quarters. So it's nice to have a choice.
The wonderful element to Sarah's design is the idea of flexibility. You can change the size with ease without interrupting the pattern flow of the spikes. As an extra special option for you, I have figured out how many stitch counts you need to do to change the starting chain to compensate for different sizes.
The pattern has starting chain 46 for the 16″ pillow form. Knowing the pattern is a multiple of 4 + 2. I use a measuring tape and confirmed with my math on what the different sizes should be. When doing this option, keep in mind that the pillow is square. So when she instructs you to get to approximately 16″ in height. That's the squareness to the starting chain. So if you chain the width, go to the height of the size you are making only.


Pattern Suggestions
Altering this Pattern
12″ Square Pillows: Chain 34
14″ Square Pillows: Chain 42
16″ Square Pillows: Chain 46 original
18″ Square Pillows: Chain 50
20″ Square Pillows: Chain 58
The back is made up of 2 Panels that cross over each other and have a button to secure. This allows you to remove the cover if you wish. For the original, it's 10″ per panel. This is giving an overlap of 2″ per cover.
12″ Pillow Form. Back Panel must be 8″ each.
14″ Pillow Form. Back Panel must be 9″ each.
16″ Pillow Form. Back Panel must be 10″ each. Original
18″ Pillow Form. Back Panel must be 11″ each.
20″ Pillow Form. Back Panel must be 12″ each.
Tutorial
Repeat Crafter Me Pattern Ideas
Repeat Crafter Me" data-style="grid" data-row="1" data-layout="vertical" data-rtl="" data-fitrows="" data-filtercomb="" data-filterlogic="OR" data-filterload ="" data-sortbyload ="" data-orderload ="false" data-fullwidth="" data-fullheight="null" data-gutters="[[320,5],[480,5],[768,10],[980,10],[1200,10],[9999,10]]" data-slider='{"itemNav":"null","swingSpeed":0.1,"cycleBy":"null","cycle":5000,"startAt":1}' data-ratio="1.78" data-cols="[[320,1],[480,2],[768,2],[980,3],[1200,3],[9999,3]]" data-rows="[[320,200],[480,200],[768,220],[980,220],[1200,240],[9999,240]]" data-animation='{"name":"Fade in","visible":"","hidden":""}' data-transition="700ms" data-ajaxmethod="on_scroll" data-ajaxdelay="100" data-preloader="1" data-itemdelay="100" data-gallery="" data-ajax="">
# 5 Yarn Weight
,
Amigurumi Patterns
,
Baby Toys
,
Crochet Valentines
,
Crochet Video
,
Easy
,
Free Crochet Patterns
,
Holiday Patterns
,
Repeat Crafter Me
,
#5 Yarn
,
Amigurumi
,
Bernat Velvet
,
Crochet Bear
,
Crochet Tutorial
,
Easy Crochet
,
Repeat Crafter Me
,
Sarah Zimmerman
,
Valentines
Corner to Corner Patterns
,
Holiday Patterns
,
Repeat Crafter Me
,
Bias
,
Bias Stitch
,
C2C
,
C2C Ideas
,
C2C Stitch
,
Corner to Corner
,
Corner to Corner Ideas
,
Corner to Corner Stitch
,
Crochet Blanket
,
Crochet Corner to Corner Stitch
,
Crochet Tutorial
,
Easy Crochet Stitch
,
Granny Square
,
Repeat Crafter Me
,
Snowman
,
Stitch
# 4 Yarn Weight
,
Blanket Patterns
,
Crochet Halloween Blankets Ideas
,
Crochet Pumpkins
,
Crochet Video
,
Holiday Patterns
,
Intermediate
,
Repeat Crafter Me
,
Blanke
,
Crochet Pumpkin Blanket
,
Crochet Pumpkin Patterns
,
Crochet Pumpkins
,
Crochet Throw
,
Crochet Tutorial
,
Fall
,
Halloween
,
Halloween Blanket
,
Pumkin
,
pumpkin
,
punkin
,
Repeat Crafter Me
,
sarah
Blanket Patterns
,
Corner to Corner Patterns
,
Holiday Patterns
,
Repeat Crafter Me
,
Bias
,
Bias Stitch
,
C2C
,
C2C Ideas
,
C2C Stitch
,
Corner to Corner
,
Corner to Corner Ideas
,
Corner to Corner Stitch
,
Crochet Corner to Corner Stitch
,
Crochet Tutorial
,
Easy Crochet Stitch
,
Granny Square
,
Repeat Crafter Me
,
Stitch
Corner to Corner Patterns
,
Holiday Patterns
,
Repeat Crafter Me
,
Bias
,
Bias Stitch
,
C2C
,
C2C Ideas
,
C2C Stitch
,
Corner to Corner
,
Corner to Corner Ideas
,
Corner to Corner Stitch
,
Crochet Blanket
,
Crochet Christmas
,
Crochet Corner to Corner Stitch
,
Crochet Tutorial
,
Easy Crochet Stitch
,
Holiday
,
Repeat Crafter Me
,
Santa
,
Stitch
# 4 Yarn Weight
,
Baby Blanket Patterns
,
Blanket Patterns
,
Collection Patterns
,
Crochet Video
,
Easy
,
Free Crochet Patterns
,
Intermediate
,
Repeat Crafter Me
,
Baby Blanket
,
Blanket C2C Patterns
,
C2C
,
C2C Graphghan Patterns
,
Corner to Corner
,
Crochet Christmas
,
Gnomes
,
Graphghan
,
Marly Bird
,
Nordic
,
Sarah Zimmerman
,
Snowflake
,
Yarnspirations
# 4 Yarn Weight
,
Baby Hat Patterns
,
Charity Patterns
,
Crochet Video
,
Easy
,
Free Crochet Patterns
,
Hat Patterns
,
Repeat Crafter Me
,
Adult Owl Hats
,
Crochet Owl Hat
,
Easy
,
Gray
,
Kids Owl Hat
,
Newborn Owl Hats
,
Owl
,
Owl Hat
,
Red Heart Super Saver O'go
,
Repeat Crafter Me
,
sarah
,
Sarah Zimmerman
,
Toddler Owl Hats
,
Whoooo
# 4 Yarn Weight
,
Blanket Patterns
,
Corner to Corner Patterns
,
Crochet Video
,
Free Crochet Patterns
,
Michael Sellick
,
Repeat Crafter Me
,
Stitch Library
,
C2C
,
C2C Crochet Diagrams
,
Corner to Corner
,
Corner to Corner Half Double Crochet
,
Corner to Corner Written Instructions
,
Half Double Crochet Corner to Corner