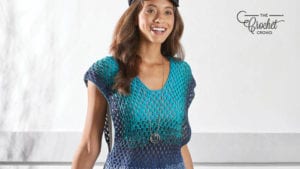 Crochet Not So Granny Tunic Pattern
The Crochet Not So Granny Tunic is an easy level crochet project that doesn't require a lot of skills to make.
The collar area is just a granny rectangle that is start off with a hole in the middle. The diagram below shows that and we have outlined where the 3 sizes are indicated. What is unusual about this starting point is that the neck is smaller for the larger sizes.


Pattern Suggestions
Crochet Diagram

Tutorial
More Clothing Patterns