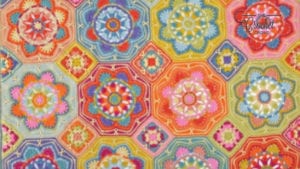 Crochet Persian Tiles Blanket
I just bought an instant download of the Crochet Persian Tiles Blanket. I'm not one to buy a lot of stand-alone patterns but I saw this on Twitter come across. Originally, I thought it was wallpaper and stopped scrolling to see and realized it was crocheted! I was like OMG, where can I find this.
I just bought it through the designer, Janie Crow's Ravelry Page and instantly downloaded it. It says in $4.95 UK but it works out to $6.38 USD. As an educator and occasional designer of patterns, that's a steal price for this design. The work she did with the crochet diagram and instructions I downloaded must have been 100's of hours like it states with our crochet along designs.

To me, this is a celebration of crochet at its very best. The colouring is incredible and even if all of the motifs were coloured exactly the same, it's still a crochet pattern that is breathtaking. I don't crochet much for myself, but this has me high on yarn fumes with delight.
More Ideas
Tutorial
Not available.
More Mandala Crochet Patterns