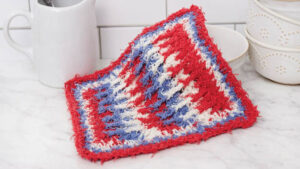 The Crochet Scrubby Dishcloth resembles the alpine stitch but doesn't alternate. Using Red Heart Scrubby, you can have a quick dish project.
This is the Crochet Post Stitch Scrubby pattern.
Every other row jumps down using front post trebles around the existing front post trebles (after the repeat starts).
Easy to crochet and the border is flexible. This pattern's stitch combination is multiples of 2+1.
The starting instruction of 3rd chain from the hook is actually incorrect. It should be 4th chain from the hook.
More Ideas

Tutorial
More Collections