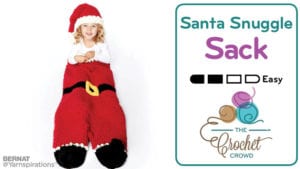 Crochet Santa Snuggle Sack
Adding to the fantastic Snuggle Sacks by Yarnspirations is the Santa Snuggle Sack + Matching Hat for kids.
The snuggle sack has the body of Santa with split legs with Santa Boots at the end. Added extra features such as the gold belt buckle. No Santa Sack would be complete without a matching hat to go with it.
More Snuggle Sacks to Enjoy
It's classified as easy and is designed for kids approximately 3 – 4 years of age. So it's not an overly big project to commit to.
Waiting for Santa on Christmas Eve would be a lot of fun and super cute photo accessory in documenting a child's Christmas.
Tutorial for the Santa Hat
More Snuggle Sacks