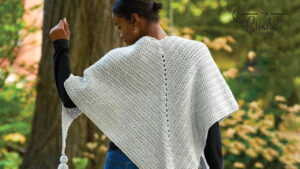 The Crochet Wingspan Shawl is an easy repeating shawl that grows up from the middle and expands as big as you prefer.
Designed to be bigger than fashion shawl designs to give the extra comfort. Maybe even a great substitute for a prayer shawl if you are looking for one.
The shawl is just an easy repeating of double crochet that expands out naturally on its own.
If you are looking for a pattern to easily complete while travelling or visiting others, you may want to consider this.
More Ideas

Tutorial
Releasing March 26, 2022
More Shawls