---
The Crochet Cuddles'n Clouds Stripes is heavy in texture. I used four different Bernat Blanket O'Go colour strategies. I had four individual Bernat Blanket O'Gos that I really cannot mix easily with other items to keep the colour control. So I wondered about putting the four random balls that each have 3 colours.
Each of the colours used is unique so it gives it a look that each stripe is different. I found it exciting to crochet because the colours change after just a few rows so it feels like the stitching journey goes quickly.
Multiples are 2 chains + 3.
More Ideas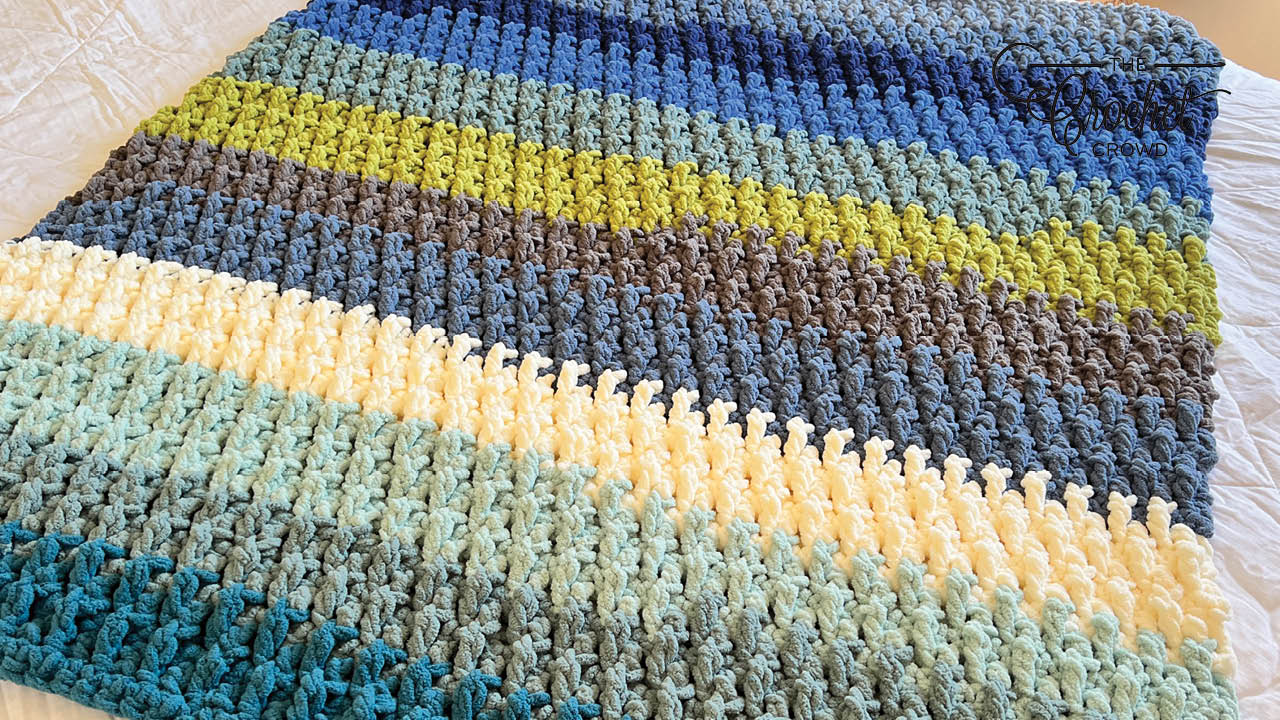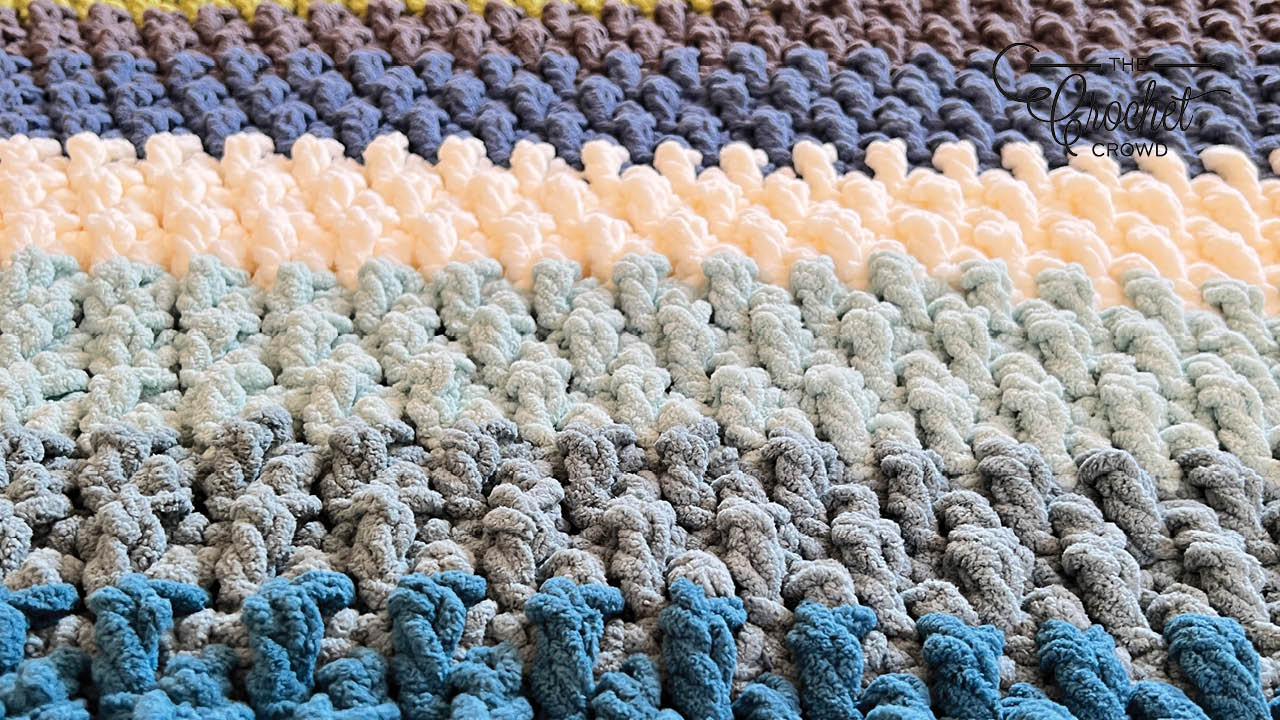 ---
Materials
Bernat Blanket, 300g / 10.5 oz, 201 meters / 220 yards
A - Indigo Fads - 1 O'Go
B - Scuba - 1 O'Go
C - Mist - 1 O'Go

D - Agave - 1 O'Go
Hook 10 mm / N/15
Size: 38" x 50 " [96 x 127 cm]
Abbreviation
Approx = Approximately
Ch = Chain
Dc = Double crochet
Pat = Pattern
Rem = Remaining
Rep = Repeat
RS = Right side
Sc = Single crochet
St(s) = Stitch(es)
Trfp = (Yoh) twice and draw up a loop around post of next dc 2 rows below at front of work inserting hook from right to left. (Yoh and draw through 2 loops on hook) 3 times –trfp made.
Yoh = Yarn over hook
---
Instructions
The striping effect naturally comes out of the O'Go. So just use all of the yarn up and be conscious of finishing up at the end of a single crochet row. The ball order in materials is the same order in which the sample was created.
With A, ch 67.
1 st row: (RS). 1 dc in 4th ch from hook (counts as 2 dc). 1 dc in each ch to end of chain. Turn. 65 dc.
2nd row: Ch 1. 1 sc in each dc to end of row. Turn.
3rd row: Ch 3 (counts as dc). *1 trfp around dc 2 rows below. 1 dc in next sc. Rep from * to end of row. Turn.
4th row: As 2nd row.
5th row: Ch 3 (counts as dc). *1 dc in next st. 1 trfp around dc 2 rows below. Rep from * to last 2 sts. 1 dc in each of last 2 sts. Turn.
Rep 2nd to 5th rows using up all of the yarn. Be sure to finish at the end of the 2nd or 4th row.
Inspired by Yarnspirations.com.
Tutorial
---
More Collections