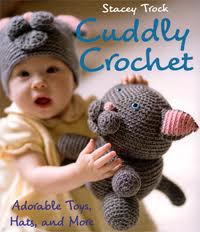 Cuddly Crochet by Stacey Trock
If you think the cover of this book is cute, wait till you see what's inside. Cuddly Crochet is so appropriately named after funnelling your eyes this cute book!
Stacy Trock, author, has done a remarkable job not only in showing you the stuff you can make but she has gone to extra effort to show you how to crochet and really given detailed instructions on what abbreviations mean and exactly what yarns with product codes have been used in this book to complete exactly what she shows. Not to forget that she has even given websites on where to get the cute cuddly eyes and add on materials that really set the craft into overdrive for cute and cuddly.
This book focuses on wearable items for Baby and toys. At this age in a child, it's not about the money that is spent on a gift, it's about colour and creativity. They're not worried if the wheel on the toy truck inside doesn't go round and round, but the child can still provide sounds and motion along with a play matt as if it were real.
This book is perfect for those seeking a shower gift idea or even a proud grandparent wanting to make something for their new addition to their family. This book has a "WOW" factor to it and would be an elegant and shocking surprise gift to an expected mom to receive the projects as gifts for their new arrival.
More Baby Ideas