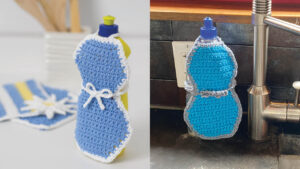 Ridiculous ain't it! haha, Make your kitchen more personal by hiding the soap bottle in a cotton apron that can be changed out between the bottles.
Very easy to make and even craft fair worthy for little novelty gift ideas. Wait until Daniel finds the one I did in the kitchen. He's going to say "What the hell is going on!?" Don't mess with the guy's kitchen! haha, I cannot wait.
The tutorial was made and you can see how easy this pattern is to do. It may give you other homey decorative ideas!
More Ideas

Tutorial
Releasing March 13, 2022
More Crochet Dishcloths