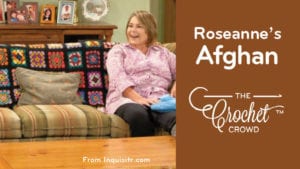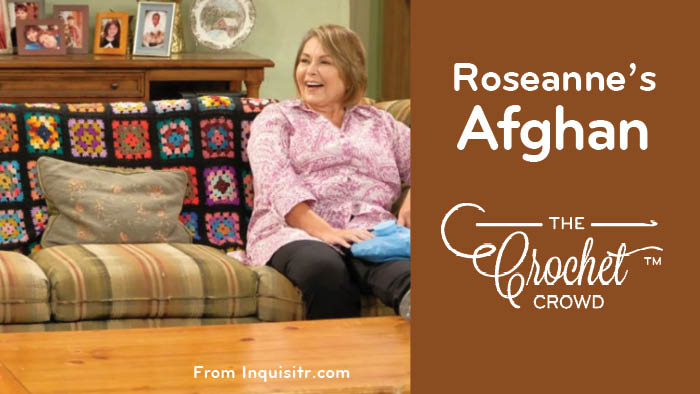 Roseanne's Back and So Is Her Iconic Afghan
Whether you love Roseanne Barr or not, she's back on TV. Roseanne hit the airwaves when I was a kid as I went into high school. I've had plenty of laughs as a kid but also life lessons through her show. It was also this show that showed me a Crochet Granny Afghan that perked my interest to figure out how to make a granny square.
As many of you know, Roseanne is back for a reboot. To some, it's a bit controversial over the political views. What was true back the first time, the show was hitting home where it counts. The average family mixed in with ridiculous but relatable humour.
With today's society being heavily polarized by political opinions, I suspect this show will hit nerves on one side or another. But truth be told, even our friendships and own families can be divisive by the current events we are all facing. So the show is doing what it did back in the day, speaking to real-time issues we face as a society.
So for me, I'm not watching the show based on political views… Though it may be an interconnective web in the storyline. We are facing that interconnectivity through our personal and professional relationships is something we need to work through together. There's true-life being depicted and I can relate to that.
Pattern Suggestions
The Iconic Crochet Afghan
The original afghan was 12 Grannies Wide by an unknown length. On the show, you can only see about 5 grannies in the length before the fold over the couch. If I was to hazard a guess based on a different picture of watching Darlene and Roseanne fold the afghan over the couch. I suspect the afghan is approximately 12 x 13 = 156 grannies. The granny squares are about the size of a hand.
Upon closer inspection, the new afghan isn't the same width wise. You can count 11 Grannies Wide by an unknown length. A hazard guess is 11 x 11 = 121 Squares. The afghans squares are noticeably bigger. Above the 1.5 hands per square.
The original and new afghan have the same stitch work. There are 5 rounds per square. The final round is black on each square. The squares are made up of the solid and variegated yarns mixed. Some squares are complete same variegated yarn for 4 of the 5 rounds. Other squares are mixed of solids and variegated rounds.
I am recommending Caron One Pound Yarn and a 5 mm/ H Hook.
It's the true iconic look of a scrapghan. The squares are most likely whipped stitched together.
Tutorial
This video below is showing 4 rounds. The 5th round needs to be added for the black.
More Ideas Featuring Granny Squares