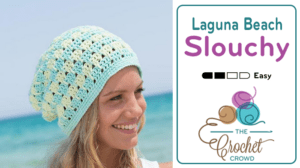 Crochet Slouchy
A fabulous free pattern for summer called the Laguna Beach Slouchy. It's been designed with summer in mind using cotton-based yarns.
Cotton has the potential to hold ⅕ it's weight in moisture before feeling damp. It's a great way to keep the sun off and for you not to overheat.
The pattern calls for Schachenmayr Catania Grande yarn. The orange and yellow sample in the video is using this same yarn. Mikey's tutorial version of the pink and blue is called Schachenmayr Boston Sun. It's much thicker with a chunky weight 5.
In the tutorial, Mikey will show you how to alter the pattern to customize it for your head.
To make this pattern work, if you chain sets of 4, your pattern will work out every time. When chaining, count 1 - 2 - 3 - 4 and start at 1 - 2 - 3 - 4. Keep doing that until you get to the length you need. Use the chain to measure around your forehead and lower back of your head. This is important as if you make the chain too long, the slouchy will be too big. Keep in mind, the chain will shrink a bit in the first 3 rounds.
Mikey deviates from the pattern due to the customization and the changing of the yarn. This is intentional to show how how to customize. This pattern is fantastic for customizing the designer has done a terrific job.
Please note this pattern is not written like a typical Red Heart pattern that we are used to. It has some assumptions of stitches by assuming you know how to crochet. In the video, Mikey calls attention to these areas to help you.
Are up for a challenge, here's a link for the free pattern. It's called Laguna Beach Slouchy by Schachenmayr Yarns.


Video Tutorial
The tutorial is only available in a right-handed format.
Pattern Suggestions
More Crochet Hat Pattern Ideas