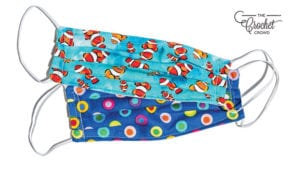 Sewing Child and Adult Fabric Masks
The sewn version of these Child and Adult Fabrics Mask Patterns are available. CDC advises the use of simple cloth face coverings to slow the spread of the virus and help people who may have the virus and do not know it from transmitting it to others. These masks help ensure that critical supplies of surgical and N-95 masks are reserve for medical personnel. Measurements are given for child-size masks, but should not be placed on young children under age 2.
Please follow your own country, state/province and/or local government for the latest details.
The recipient should be only used on individuals where they can remove the mask on their own. 


Wash masks before using them. Wash after each use. Do not share a mask that has been worn by someone and has not been washed since. DO NOT MICROWAVE.
Place elastic behind the ears and bottom of the mask under the chin. Mold the wire to bridge of the nose. Once in use, only wear with the white side next to face to prevent placing possible contamination next to your face.
Mask can be machine (or hand) washed, dried, and re-used. If wire starts to rust or poke through, cut a small slit on the back of the mask at one end of the pocket securing the wire. Remove the wire and replace it. Hand stitch opening closed.
Masks have a non-woven lining (light-weight interfacing) to provide additional protection. • DO NOT put a mask on young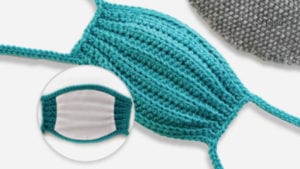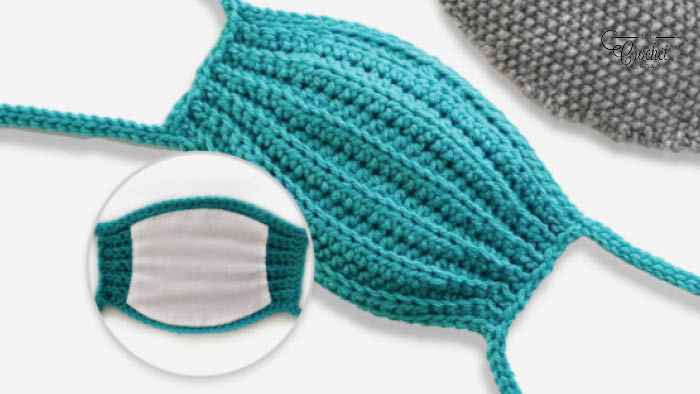 Fabric Lined Crochet & Knit Masks
Ensure that you use fabric on the inside of the mask to be most effective. These are not medical grade masks but serve like a bandana or scarf.
Crochet Mask version.


Knit Mask version.


More Crochet Patterns
Tutorials
These match the patterns above.
Crochet Pattern Ideas