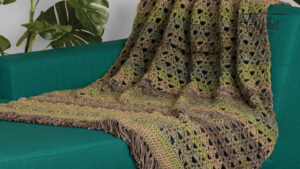 The Crochet Stacking Triangles Lacy Crochet Blanket is using discontinued Caron Tea Cakes yarn but the stitch definition is awesome. The free pattern also includes a crochet diagram to easily follow along with the 4-line repeating in this pattern.
The stitch multiple to change the size is 6 chs + 4 so you can change out the hook and yarn and still have this amazing blanket to follow along.
Once the centre section is completed, you will do both the upper and bottom edge with 4" of single crochet to thicken up the edging for the final look.
More Ideas

Tutorial
Releasing March 25, 2022
https://youtu.be/pZNqT8fHYOc
https://youtu.be/6n6QeDxX8H4
More Crochet Afghans