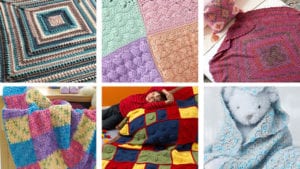 Inspired by Crochet Blocks
As children, we learn the essentials of building through stacking blocks and puzzling things together. Myself, I was addicted to LEGO®. I played with lego until I was about 12 years of age. While we never had the fancy sets of LEGO, the basics of the blocks were all I needed to set my imagination on fire with ideas.
These selected blankets are block-based. Maybe the stitch is creating a block or the project is made in blocks.
These projects also include a free tutorial to follow.
---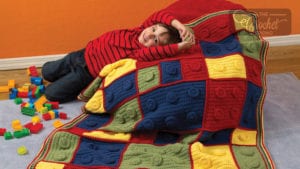 Building Blocks Throw
The Crochet Building Blocks Throw completed puts m back to my childhood, in my mind. The blanket consists of 4 different types of building blocks. There is a 1 dot, 2 dots, 4 dots and 6 dots block. The formula is pretty much the same as it's a mix of single crochet rows and half double crochet rows.
I felt some information may be missing from the pattern, so you will see in the tutorial I will be explaining 4 dots and 6 dots variation with information to help you be consistent with your counts.
The blocks are made in rows but with each, there is a final round. You will notice the blocks will have a slight lean that is caused by the half double crochet. Don't panic, it will straighten up as the border for each block will do that for you.
There is new sewing required. It's a single crochet join. The border follows the premise of alternating between single crochet and half double crochet rounds. There is a total of 5 rounds with the last round just being a slip stitch around.
I think this is a perfect personalized gift for children and grown-ups who just love the building blocks. It's a throwback to memories.


Tutorial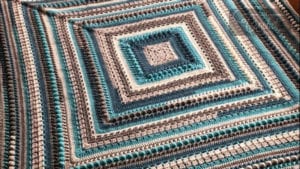 Crochet Gigi's Block Party Blanket
I hope you enjoy crocheting this new blanket today, Gigi's Block Party Blanket.  It's another combination of my two best patterns – The Hugs & Kisses Blanket and the Modern Granny!
Keeping up with my love for self-striping yarn, I've chosen to use Bernat POP! in Blue Streak for this blanket.  I used 9 balls to crochet this blanket to a finished size of 56″ square.
When you upload your project to The Crochet Crowd Stitch Social Group or Instagram, feel free to tag me so I can see what you have crocheted.  Follow me on Instagram @ jeannestein or on Facebook.  My designs can also be saved in your Ravelry favourites by following me HERE.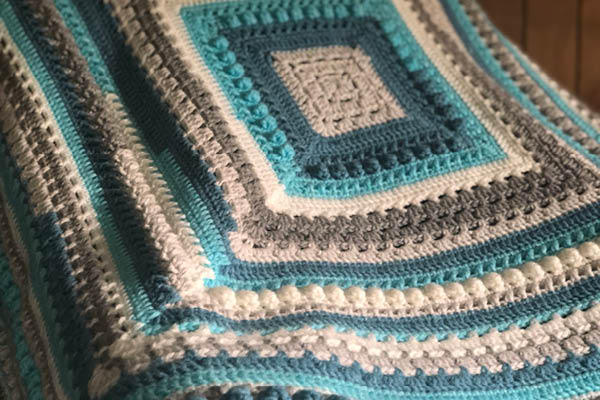 There's no tutorial available for this one at this time.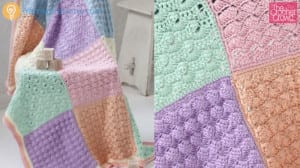 Baby Sampler Afghan
This Crochet Baby Sampler Afghan is not very hard to do. It has 4 squares that are different but looks like a lot more as there are different colours being used throughout the afghan. There is a total of 12 squares in all.
I have completed 5 tutorials for this particular afghan. The written instructions have the blocks divided up by blocks 1, 2, 3 & 4. There is a separate tutorial for each as all of the squares make for interesting stitches that you can use in other projects if you wish. For example, you could do large afghans or other projects using just one of the stitches you see within this project.


All 4 Blocks at inside One Tutorial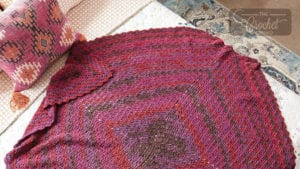 Stacking Blocks Afghan
The Crochet Stacking Blocks Afghan is essentially a corner to corner, C2C, technique working from the center going outward to form a square. The sides step like a corner to corner. With the help of the Caron Big Cakes, you will see results of excellent colour transitions and this pattern is easy to master.
The tutorial below will help you get started. There is also a second tutorial with the exact same pattern with a neutral colour palette for this project. It's done exactly the same way.


Tutorial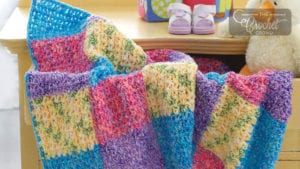 Color Block Blanket
Learn how to make a Color Block Panels Blanket using techniques not mentioned in this free pattern.
Firstly, I am going to show you how to do this pattern from a different concept of building the blocks one by one instead of making the blocks in large strips that require sewing.
I will show you how to attach the squares together as you crochet and keep the look the exact same. You can use my version to be creative and create a quilt like a baby blanket.
Get the free pattern, it's called Color Block Panels Blanket. By using the Bernat L'il Tots, you will end up with a colourful and super soft baby blanket.


Tutorial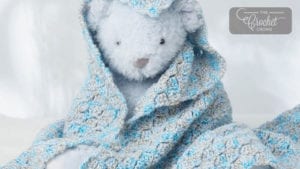 Tumbling Blocks Baby Blanket
If you love Corner to Corner Afghans known as C2C, you may just love this Li'l Tots Baby Blanket using the same concept.
Finished afghan is only 32″ square and will hook up pretty quickly. The pattern has the number of blocks you need for a baby size if you prefer but you can also do a huge bedspread size too.
Want to give this a try, get the free pattern. It's called Tumbling Blocks Baby Blanket.


Tutorial
You may notice people using Corner to Corner, aka C2C to do pictures inside of the stitchwork. This video shows how this is done.
More Pattern Ideas
More Baby Blankets