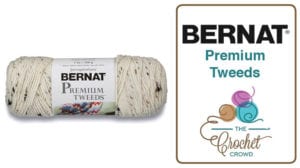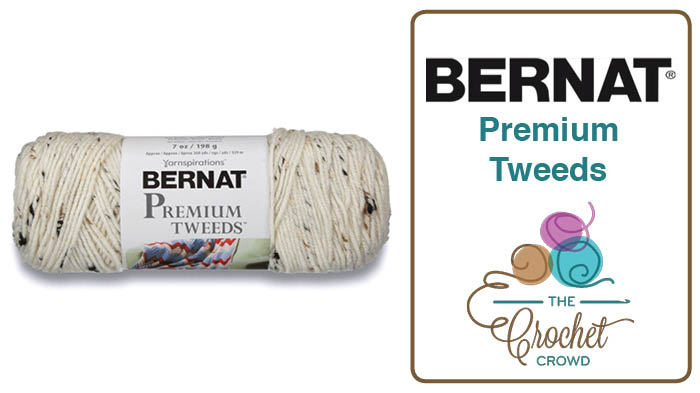 Bernat Premium Tweeds
Bernat Premium Tweeds is a step-up of regular value acrylic yarn. Most know, acrylic yarns are not the same product across the yarn spectrum. There is truly value acrylic that is rough and stiff and crossing over to medium levels to premium levels of acrylic. This is one of the highest levels of quality of acrylic applied to the yarn.
This yarn is super soft due to the quality of the acrylic used. This is called tweeds. What are tweeds anyway?
Tweeds are the look of handspun yarn where pieces of the barn or hay or other fibres get caught into the fibres as they are handspun. If you look at historical yarns, it was rare to see handspun yarn be perfectly bleached or colour matching. Moving forward to today, this is a simulated hand-spun type of look. The plies are still consistent but extra 'nefs' they call them, are added to the yarn to provide the handspun look. The nefs are applied consistently but are not computerized to always appear the same colour or size in the yarn. It truly is random in a product that is heavily controlled by technology.
Bernat Premium has been out for years here in Canada but has now been moved online to Yarnspirations.com for those globally to enjoy this product. The benefit of the premium is that you can have value pricing and softness without having to wash your item first. This is suitable for home decor and clothing alike.

Pattern Ideas
Learn more about this yarn and/or order online to enjoy. 
Yarn Stats
Content: 97% Acrylic, 3% Viscose
Ball Size: 7.0 oz/198 g, 360 yds/ 329 m solid colors
Care: Machine wash and dry
Gauge: 4 Medium Worsted
Knitting Gauge: 18 sts and 24 rows with a 5 mm (U.S. 8) knitting needle
Crochet Gauge: 13 sc and 14 rows with a 5 mm (U.S. H/8) crochet hook
Use for: Knit and crochet afghans and garments
Gallery
Bernat Yarn Pattern Ideas
No post was found with your current grid settings. You should verify if you have posts inside the current selected post type(s) and if the meta key filter is not too much restrictive.