Bernat Blanket Stitch Along: Gallery Submissions & Prizes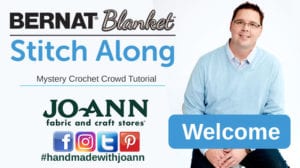 Bernat Blanket Stitch Along Submissions
In cooperation with Jo-Ann Fabrics and Crafts and The Crochet Crowd, we've been working hard on a Stitch Along for both Crocheters and Knitters. Over the month of October 2016, crocheters were given clues to follow along with two blanket projects.
Both of the afghans were completely different than each other. The stitchers worked hard to complete the Stitch Along Clues and created remarkable examples of colour creativity. This was a mystery, so the colours are fabulous and really inspirational. If you don't believe me, go look at the fine examples of creativity in the galleries.
You have until November 30th, 11:59 pm, 2016 to crochet or knit your afghan to submit for these prizes. They make for great gifts for Christmas as well.
---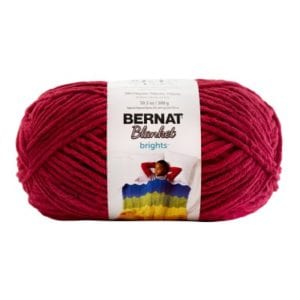 $360 Worth in Yarn Prizes
We have 6 prizes in all. 3 for the knitters and 3 for the crocheters. The prizes are different between the two categories. Winners that selected will receive the same yarn quantity as suggested in the pattern that they have submitted for.
Knitters
Winning Knitters will receive 5 balls of Bernat Blanket , 10.5 oz / 300 g. Valued at $50. Shipping will be complimentary to your home. The winners will be selected from the knit gallery for this project. 5 Balls are yarn were required to make this version of the Stitch Along.
Crocheters
Winning Crocheters will receive 7 balls of Bernat Blanket, 10.5 oz / 300 g. Valued at $70. Shipping will be complimentary to your home. The winners will be selected from the crochet gallery for this project. 7 Balls of yarn were required to make this version of the Stitch Along.
Winners will be contacted by The Crochet Crowd via Email to get your address.
Knit Version
Downloadable PDF's for Knit Version
Crochet Version
Downloadable PDF's for Crochet Version
How to Submit
If you would like to go into our Wall of Fame and have completed the afghan as per the pattern that was submitted, you can have your picture put into our gallery. The gallery will be organized in alphabetical order starting with the first name of the participant. If you have decided to venture out on your own to create new elements to the pattern or decided midway to go into a different direction, we congratulate you on you creativity but we cannot put you into the gallery. People will email us asking for alternative patterns if they see another afghan in the gallery that looks different.
To Submit Your Picture: 
Email us 1 Photograph of your Completed Afghan.
Please tell us your first and last name and full mailing address so we know where to send the prize if you win.
Email us at: Inquiry@TheCrochetCrowd.com using the subject title of SAL. SAL is short for Stitch Along.
Please give us up to 4 days to review your photo and move it to the gallery. If you don't see it appear in the gallery after 4 days, please email it again.
General Guidelines
There is no sign up required to participate. Complete the project and email your photo when you are done. This challenge is open to everyone.
You may use any yarn you wish. You may substitute your yarn for any brand or colors that you desire. You may create any color scheme. Use as many or as little colours as you prefer.
You may do as many projects as you wish. If multiple entries are identical, a picture showing the projects together to prove their are multiple must be included with your submissions.
We require your photo to show the entire project so we know the entire project is done. The project must be showing all of the project for us to count rows in the picture to ensure the projects are complete. Ensure your project is completely finished with yarn tails and etc not showing. It's like giving it out as a gift, we want to the see the photo showing as if you were gifting us the finished product. This way we know you are completely done.
The crocheter or knitter must have completed this pattern as is. The work of making these projects are fair and equal to all.
If you are changing your hook or needle sizes, we are still looking for the pattern to be the same.

The projects must be the same stitching as indicated in the pattern. Do not disqualify yourself by changing the pattern stitching. Submission of a project equivalent to the project but isn't the same will not be accepted.
Creator's Choice: After your pattern instructions are complete, you may add embellishments, borders and etc to the pattern to push your creativity further.
All photos must be submitted during the challenge time frame only. Entries after this due date will be accepted for our gallery but there are no prize giveaways after the deadline.
Your Choice: Post your finished project on The Crochet Crowd Facebook Page to show everyone your finished work so we can drool over your creativity.
When you email your finished photo to us, we respect your privacy and will only post your first and last name on the picture in our gallery with the photo so we can identify the winner at the end.
Featuring on Facebook is dependent on you. We do not upload your emailed photos to Facebook. You have to do that yourself if you want to Show N Tell your creativity.
One random choice for each will be made at the end to select one winner. It's a lottery system and everyone has a fair chance to win.
We are not responsible for undelivered email and/or late entries to qualify for the prize.
Due to the countless technology platforms and services, we are not responsible for any of our challengers if a mobile devices or technology that isn't compliant to being able to read our website, view our videos and/or get access to the free patterns.
All applicable federal, state and local laws and regulations apply. Void where prohibited or restricted by law.
Please verify your entry is in our gallery prior to our draw. We need up to 4 days to get your entry into our gallery. We upload it ourselves as part of our review process. If you do not see your entry, we most likely haven't received your email. Do not wait until after the draw to check if your entry is in. 
This is intended for a fun community challenge only. We each are deserving of the highest praise possible for our own creativity. Let's have fun.